Dr Seuss Nursery Theme: Why Fit In When You Were Born To Stand Out?
by Jaclyn
(Wellington, FL, USA)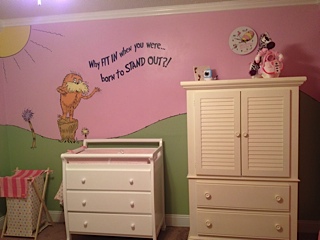 Our favorite Dr Seuss quote Why Fit In When You Were Born To Stand Out?
We wanted to do something different for our baby girl's nursery. My husband and I want our child to be her own person, not a follower, which is why the inspiration for our nursery theme is our favorite Dr Seuss quote: "Why Fit In When You Were Born To Stand Out" which is painted on her nursery wall.


Dr. Seuss was different in his own way and will forever be a role model for kids.



My husband and I love the books, the colors and ideas that he used in the illustrations.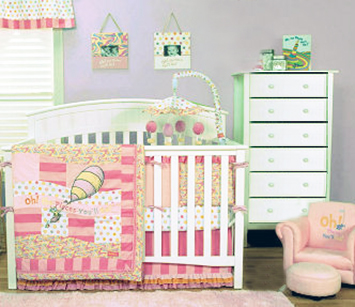 Go here to see more
We knew that decorating a baby Seuss nursery in pink was going to be a challenge but we pushed forward and are so happy that we did.
We came up with some very cute
Dr Seuss nursery themes
ideas for girls.
My husband hand drew and painted everything himself; there were no stencils, projector or
Dr Seuss wall stickers
used here. He spent at least 70 to 80 hours or more in decorating the nursery.
We used a collaboration of Dr. Seuss book characters within our drawings. On one wall, Horton of Horton Hears a Who is carrying a tray of Green Eggs and Ham while a balloon from The Places You'll Go is tied to his tail. Next to Horton is a fish from One Fish, Two Fish whom is speaking to the fish from The Cat in The Hat. On the other wall is The Lorax with the quote "Why Fit In When You Were Born To Stand Out", which was also hand painted without the use of stencils, decals or a projector.
Throughout the whole nursery are brightly colored Truffala Trees, Clouds and a nice, big painting of the sun.
Items We Bought for Our Baby Girl's Nursery
We bought her white crib from Crib and Teen City, the changing table and tan glider from Babies R Us and the white nursery armoir was actually from my bedroom when I was a teenager.
We bought a plain, white ceiling fan from Home Depot and put in tan carpet from Home Depot as comfort features for the room. The pink Dr Seuss baby bedding set is from the "Oh! The Places You'll Go" collection which was bought online through Seussland.com.
Along with the crib set, we bought the matching diaper holder, clock and clothes hamper from the same vendor.
The pink black-out curtains came from Target.
The Final Results
We absolutely love how the nursery came out and hope that
Unique Baby Gear Ideas
' visitors expecting a girl will, too! With my husband doing everything himself; it makes the room that much more special.