Unique Butterfly Baby Gifts Ideas for Baby Girl Baby Showers
Here are some ideas for unique butterfly baby gifts that will really stand out at the baby shower. If the invitation that you received in the mail was decorated with butterflies or you know that the mom or dad-to-be are butterfly lovers this may be your cue to shop for baby bibs, onesies, rompers or a pretty set baby and mama butterfly jewelry.



Visitors Who Like This Page Also Enjoyed these Pages:

Butterfly Nursery Decals

Butterfly Baby Nursery Ideas

Butterfly Nursery Theme

There are so many kits that will make it easy to make your own butterfly baby shower gifts. A handmade gift that you embroidered with butterflies is sure be tucked into the keepsake box and admired long after baby has outgrown the little outfit.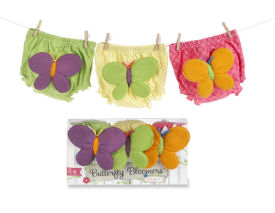 SEE MORE HERE


These cute diaper covers are one of the most unique butterfly baby gifts ideas ever! The clothesline will add to the hostess' baby shower decorations and mom gets lots of cute clothes for her baby girl!




Another thoughtful butterfly gift for a baby is a homemade crib quilt. A handmade baby quilt with appliquéd butterflies that might have taken weeks to complete once upon a time can now be sewn on a machine and finished in a weekend. For a few yards of butterfly fabric and a few hours of your time, you have a memorable gift to present to both mother and child at the shower.


BUTTERFLY NURSERY DECORATIONS

BUTTERFLY BABY SHOWER THEME

BUTTERFLY STENCILS


Clothing is always an appropriate baby gift for baby girls and boys. Butterfly print dresses in a pretty pastel print always look so sweet on a newborn in the stroller. Smocked butterfly dresses for special occasions are often so well loved that they are passed to the next generation as a special family keepsake. For that little something special you can have your seamstress embroider baby's name using a special butterfly font somewhere on the top or the hem of the dress. Here are more ideas for butterfly gifts for babies
Butterfly baby plates
Butterfly diaper cake (great shower centerpieces and hostess gifts)
Butterfly crib shoes
Please make plans to visit us again soon to find more butterfly themed gifts for girls and baby nursery ideas with tips on where to find baby items that are decorated with butterflies to give as gifts.