Baby Bunny Nursery Theme Room Designs
Crafts Ideas and DIY Projects for a Baby Boy or Girl Nursery

Baby Bugs Bunny is just one of the possibilities for a bunny nursery theme room design.  There are many famous rabbits to pick from including Peter Rabbit and others as well as many crafts projects and DIY decorating ideas that can be used to incorporate them into your baby's room design.   

Flopsy, Mopsy, Peter Rabbit and Bugs Bunny are just a few of the storybook and cartoon characters parents showcase in rooms that they decorate. If you love bunnies like I do choosing just one may be a difficult decision. But before you start planning your nursery design decide which one that you prefer.
Your choice of a bunny will help to determine your color scheme, a crib set and wall art. So, please don't skip this step no matter how difficult it may be.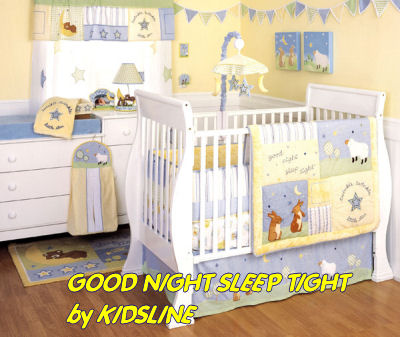 Go here to see
lots of bunny themed nursery decorations and crib sets that will help to determine the color scheme of your little one's room.
Peter Rabbit bunny baby crib bedding sets and bunny accessories and bunny nursery theme chandeliers are available for baby boys and girls as well as "Nutbrown Hare" cribs sets.
Buy fabric and make your own crib set or choose a fabric with rabbits featured in the pattern and make your own.
Bunny Nursery Wall Decorating Ideas
Bunny nursery art prints, bunny wall decals or other wallhangings combined with a beautifully painted nursery Peter Rabbit theme nursery mural featuring bunnies and other woodland creatures will put just the right finishing touch on your baby's bunny nursery theme decor.
There are many choices for a baby bunny nursery design including:
For those of us that have to make do with used nursery furniture or an old crib; we can give the baby's crib and dresser a complete makeover with a fresh coat of paint and inexpensive bunny decals and drawer pulls.
It's easy to re-purpose furniture from other areas of the home using themed drawer pulls and baby safe paint.
SHARE IDEAS - PICTURES of BUNNY NURSERY DECOR
Do you have a great set of baby bedding or a picture of a nursery that you decorated? Share it!
NURSERY PICTURES, IDEAS and SUGGESTIONS from our FRIENDS
Click below to see contributions from other visitors to this page...

Beatrix Potter Nursery and Peter Rabbit Nursery
Vintage nurseries are very popular especially with parents who are fans of the Beatrix Potter storybooks. Peter Rabbit decorations are adorable for a baby boy and pictures of Mama and her baby bunnies work well in a baby girl's room.
Painting and Decorating Ideas
Paint the ceiling light blue to give the illusion of a clear blue sky overhead. This painting technique adds so much depth and personalized charm to a room. You can use a cloud mural kit or use the instructions on this site to do it yourself!
There are any number of wonderful nursery painting ideas for you to try. There are various ways to paint stripes on the nursery wall or use a tack and a length of string to draw polka dots on your wall! Stripes are especially popular! Why spend money for expensive wallpaper when painting is so cheap and easy?
Please visit us again soon to see new baby bedding collections that you can use in decorating your baby's room as well as
Unique Baby Gear Ideas
for many of the most popular themes.