Butterfly Baby Bedding Sets and Crib Sheets for Your Baby Nursery
What is the best baby crib bedding for a baby girl that isn't too frilly? A set of butterfly baby bedding might be an option for a style of nursery décor that isn't about lace, satin bows or other classic nursery motifs commonly used to decorate a baby girl's room. Natural nursery themes to do with the jungles and rain forests are catching fire and decorating with bugs and butterflies is just another take on the trend.



Visitors Who Like This Page Also Enjoyed these Pages:

Butterfly Nursery Theme

Butterfly Decals for the Nursery

Butterfly Nursery Decorations



Butterfly nursery bedding may be the perfect way to kick off any color scheme no matter how unusual. The chances are great that you can find at least one rare butterfly that has at least a tiny touch of any color that you want somewhere on its gossamer wings. If not, nobody will criticize you for creating a nursery design based on butterflies that are not identical to those found in nature.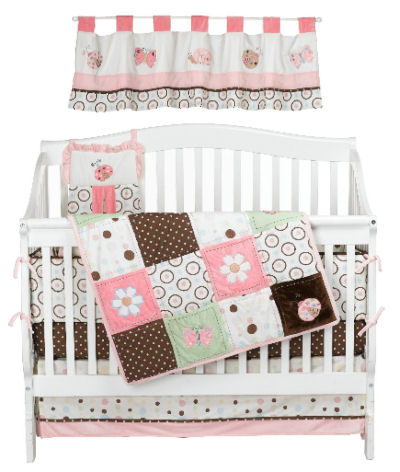 Go here to see more
crib sets with butterflies as a theme.
Butterfly Crib Sets
If a pink and purple nursery color scheme is your dream, you are in luck. There are more butterfly baby bedding sets in this combination that any other but the same is true when it comes to orange, hot pink or even lime green.


Most collections offer a selection of window treatments including curtain panels, a window topper or valance. Whether you prefer pastel, watercolor shades or funky, mod butterflies straight out of the psychedelic days of the 60s you will more than likely find something in the current selection of butterfly baby bedding that you like as well as decorative accessories, window treatments to fit most standard size windows and fabric that complements your butterfly baby bedding to make your own should you have need of it.
Most parents manage with one crib quilt until their baby is ready for a toddler bed but it's a good idea to have several fitted butterfly crib sheets on hand.
Pick up a few extras when you purchase your bedding set or chances are that you can find something in the Carters brand that will match your baby's bedding at any time.
You might consider dropping hints that you would enjoy a
butterfly baby shower theme
and mention crib sheets if anyone asks for
butterfly baby shower gift ideas
.


Butterfly Baby Bedding Sets for Boys
I have had more than a few parents ask whether there are butterfly baby bedding collections for boys and whether one might make the room too feminine. My answer to this question would be that a bug themed nurserya variety of butterflies and insects would be super for a boy but I would avoid the ones in feminine colors. Consider the colors of the monarch butterfly with its chocolate brown, pumpkin orange, black and tan or beige wings open unique opportunities for a boy's room.

BUTTERFLY NURSERY THEME
There are many themes where your crib quilt or comforter might have a butterfly print and a few butterfly decorations without filling the room with them. Any natural garden or outdoors style of decor would be an appropriate background for insects, bugs and butterflies and in fact will be more attractive because of a creative mix rather than a singular focus on any one design.
Return to see more lovely butterfly crib bedding sets and baby nursery ideas and tips for decorating your little one's first room with these delicate, colorful creatures.