Find the Best Baby Shoes, Crib Shoes and Booties for Your Infant
Some parents regard baby shoes as completely unnecessary while others seem to treasure them as keepsakes and view them as too cute to pass up. No matter that an infant will outgrow them in the blink of an eye; often there is a drawer or other special place in the nursery filled with tiny crib shoes that weigh, at most, an ounce or two.

Grandmothers spend hours and hours pouring over patterns for crochet baby booties that possibly take more time to create than they will actually be on the newborn's feet.




Adorable Baby Shoes and Clothes
Why are baby's first shoes so special? Which brands are the best baby shoes for our little one? Shoes for adults are often taken for granted but when it comes to the ones our babies wear, we can get downright obsessive over them.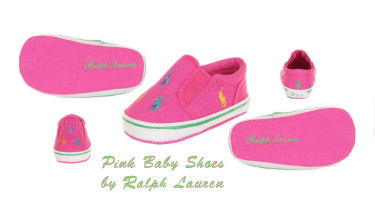 Go here to see this shoe
in more colors and fabrics for baby girls and boys.
We bronze them, fret over the best means of preserving them and one mom (who is speaking to you from experience) has every pair of shoes her oldest baby girl ever wore from soft leather crib shoes, crocheted booties to her first pair of patent leather Mary Janes.




But of course these little shoes have a practical purpose. Some brands are more popular than others and certain types are appropriate to each stage of your children's development. Here are some brands that consistently get high ratings, not all of which are high end designer baby shoes offered many times at deep discounts.


How to Preserve Baby Shoes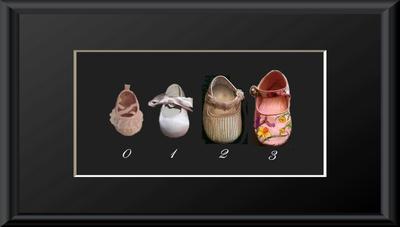 Ideas for Preserving Shoes that Baby Has Outgrown
Before bronzing, a child's first shoes were often carefully wrapped and put away in a chest that was often made of cedar. Chests made of cedar wood, which is a natural insect repellent, were used to protect a family's most precious treasures and keepsakes as well as clothing and linens.
Modern moms have since come up with many ideas to preserve precious memories by putting them on display and enjoying them rather than packing them away to wait on the next generation to arrive like THESE.


I got less obsessive about saving those tiny, sweet shoes with every baby girl that came along. But there were those that were just too precious to part with. Wear and tear that came from passing toddler shoes down from one child to the next saved me from having to rent extra storage space for plastic bins brimming over with crib shoes. But most of my baby's crib shoes look brand new. After all they are rarely within range for stains from spit up and they never hit the floor!


Recently, we moved and I made the decision to go through my stash to cull all but the most memorable, the most beautiful or those that were worn on special occasions like first portraits or the ones that were part of the girls' christening outfits.


I was determined to keep only what would fit in the girls' memory chest and lucky for me they take up very little space when folded neatly between tissue that is supposed to be best for preserving old clothes, pictures and shoes. It broke my heart to think of tossing those little shoes in the trash and then I remembered that my cousin was expecting so I packed my discards in a separate box and passed them along to a new baby.


PICK A BRAND
SQUEAKY KEDS GUESS RALPH LAUREN NIKE SKECHERS ROXY KIDS TEVA DIESEL ACORN
STYLES BABY SWIM SHOES PERSONALIZED BABY SHOES SOFT LEATHER SHOES CRIB SHOES BABY GIRL SHOES BABY BOY SHOES BABY GOLF SHOES Crochet SHOES


Every parent has their favorite brand, often the same one that they wear themselves. One mom is certain that her baby girl loves her Pediped crib shoes better than all the other crib shoes combined while another may think Robeez makes the best baby shoes in the world. After you put a few brands to the test I'm sure that you will find your favorite and the pair that fits your baby the best.
Return to Unique Baby Gear Ideas to find more ideas on how to preserve your baby;s shoes and clothes.
SHARE YOUR FAVORITE BABY SHOES
Do you have a favorite brand? Share it!
OUR FAVORITE BABY SHOES
Click below to see contributions from other visitors to this page...

Baby Shoes Growth Chart Craft Idea

I got this baby shoe growth chart craft idea while reading a magazine in the dentist office this morning. Making wall art or a growth chart out of a series …
Shiny Silver and Gold Baby Shoes Not rated yet
No matter the season, there is always an outfit that looks best with shiny silver and gold baby shoes. Winter, summer, spring or fall, formal baby dresses …