Free Crochet Pattern for Baby Cowboy Boots

Howdy, friends and neighbors we have a fine roundup of crochet baby cowboy boots as well as recommendations of the softest leather boots you can buy that will have your infant's feet covered in a western style that is comfortable PLUS your little cowpoke will look like he just stepped out of your favorite John Wayne movie!



Visitors Who Like This Page Also Enjoyed these Pages:

Even tiny Texans can look like a million bucks in infant cowboy boots that are soft as a Dallas sunset with cute crib socks that really look like the real thing! For older babies and toddlers, it's recommended that you buy the next size up from their regular shoes so that it won't be so hard to get their little feet inside the boots when it's time to saddle up…not to mention out of them at the end of a long day.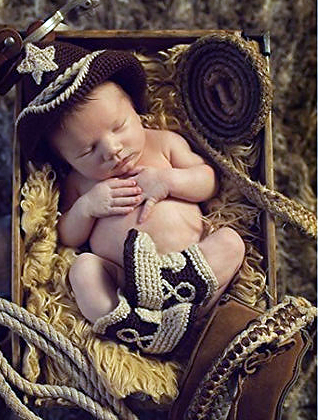 Go here to see
our top picks for crochet cowboy boots and hats for your baby boy or girls' first portrait shoot.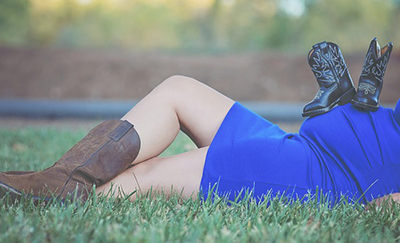 No, you do not have to live in Texas for your baby to wear cowboy boots and hats. Baby western wear is just as popular with city slickers as it is with real ranchers. Plus, you will see a fair share of cute, pink baby cowboy boots (pink COWGIRL boots?) in infant sizes.

Crafty moms can get a break on expensive prices and the color options explode if they use one of the free crochet patterns for baby boots that we have in our library or one of these patterns. There is no "break in" period for soft boots made from yarn unlike real leather and the cost is so much less.


And we don't just shoe your little ones around these parts! If you are looking for cowboy baby shower ideas or a set of cowgirl or cowboy baby bedding to outfit the nursery in a modern or vintage western nursery theme we've got your pint sized, roughneck's needs covered and ready to travel.
From quality leather Justin boots for babies to crib socks that will cover those toes and keep them warm as toast until you feel the time is right for the real thing, we are always on the lookout to give you a good selection to pick from.
So, loosen the traces, kick off your boots and check out our cowboy nursery ideas and if you don't see a pair of baby cowboy boots hereabouts that tickles your fancy you just let us know, you hear? We aim to please and provide our friends babies with cute cowgirl and cowboy outfits that mom AND dad will love. Oh, and we would be ever so grateful if you would spread the word to your friends and neighbors about Unique Baby Gear Ideas, too!.