Bentley's Rockstar Nursery Decor
by Jessica
(Louisville KY)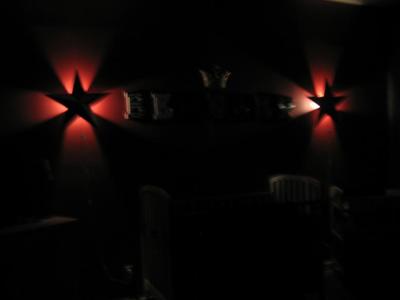 Custom stars that light up at night
Bentley's rockstar nursery decor is both a reflection of my and his dad's love of the whole rocker, skull, rockstar get up as well as our baby boy's character. He was born as a preemie at 30 weeks and we spent 2 1/2 months in the NICU which motivated me even more to make his room extra special.


SEE MORE HERE
Since he proved himself to be such a fighter, what could be better than a rock n roll nursery theme room for his tough, fighter little self?
NURSERY PAINTING
We started off by painting three of the nursery walls a dark gray color with one red accent wall.
WALL DECORATIONS
His name, BENTLEY, is spelled out over his crib in letters that have custom coverings for each letter such as zebra print, musicical notes and shiny colored paint.
There are two custom stars with built in lights on each end of the baby bed that can be turned on at night.
FLOOR COVERING
The flooring is hardwood so to soften the surface, we place a large red accent rug in the middle of the room that reflects the colors in the modern red and
black baby bedding
set and then layered a black peace sign rug over it.
ROCK N ROLL NURSERY WINDOW TREATMENTS
His curtains were chosen to complement the rest of Bentley's
rockstar nursery decor
and are honestly amazing! The curtain's fabric is zebra print and the tiebacks have tiny wooden guitars in the middle.
Even the baby's nursery ceiling fan was customized with his name painted in grafitti and Fleur di li's.
Our goal was to design a special room that can grow with him since he is our little rock star and we must have succeeded since people that walk into his room are speachless!
From the webmaster:
Jessica, thanks for sharing your creative baby boy nursery decorating ideas with us. If the cool design of this room is any indication, Bentley is definitely destined to be a celebrity!
Thanks for sharing your rock n roll
nursery decorating ideas
with us and be sure to tell your friends and family to stop by and vote for your entry in our
baby nursery pictures contest
!