Cash's Guitar Nursery Theme
by Ashley
Many have asked why we chose a vintage guitar nursery theme and decor. It really all started when I saw Conn's guitars sitting in our office one day. It just sort of came to me.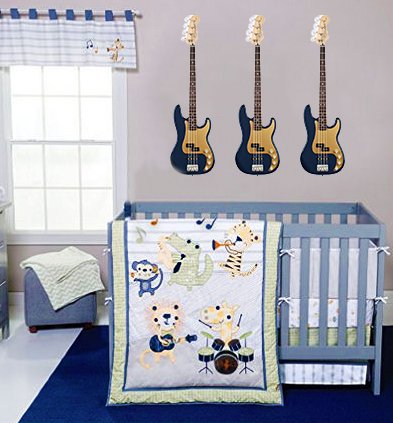 Go Here to See More
I kept telling my mom that I had it all figured out in my head, but it just needed to come to life. Well, it did, and it is everything I dreamed it would be. I love it! It was so fun to decorate for a boy after being engulfed by pink for over 4 years!
We kicked off our rock and roll nursery decorating project with the same iron baby bed that both of our girls had slept in when they were babies but we spray painted it black to give it a new look. We bought the crib bumper from Pottery Barn and my mom made the bed skirt.
MUSICAL NURSERY THEME WALL DECORATIONS
I got the idea to hang record album covers on the wall, from a trip to a coffee shop in Tomball. We bought all of these albums except for the Johnny Cash one that you see in the middle on the top row at an estate sale for $1 per cover.
I love the hanging letters and guitar on Cash's rock and roll guitar nursery but I still want to add a big red tin star on the blank wall above the head of the crib.
HOW TO MAKE ROCK AND ROLL GUITAR NURSERY THEME DECORATIONS
We bought plain wooden letters and spray painted them red. Then my mom came up with the cool idea to mount the letters on sheet music taken from a Johnny Cash song book. The pages were bright white that looked too modern for the older look we were shooting for. So, to give them an aged or vintage appearance we tea stained them literally by carefully dipping each sheet in a bowl of tea. They dried right up and were the perfect color when we were done and had stuck them in the microwave for a couple of seconds. In addition to our homemade decorations, we have my husband guitars displayed all over the room.
THE FURNITURE
I actually bought the dresser that we used in our vintage guitar nursery theme at Canton before I ever got pregnant. It had been sitting in our garage for over a year. The red that it was painted at the time was a little brighter than the rest of the red in the room, so we put a couple of coats of stain on it, and voila; we had the perfect dresser. This piece of furniture was already distressed with the paint peeling off, which was exactly what we wanted. We have a cabinet that was actually our island in our kitchen at our old house that will eventually be converted into a changing table. It has great storage underneath.
MUSICAL WINDOW TREATMENTS
The window valance was another one of my mom's brilliant decorating ideas. We bought a shelf and broke the back off of it making what was originally supposed to be the top into the front. We spray painted it red (sensing a pattern here?) and bought some old 45 records at an antique store. The material has sheet music printed all over it. Once again, it just too white, so we tea stained it using pretty much the same process as we used with the sheet music. My mom just hot glued the fabric to the molding of the windows.
ROCKABILLY GUITAR NURSERY THEME LIGHTING
We took a plain black lamp and glued fringe on it that resembles the fringe that lots of country and western stars have on their shirts. We painted the Ukulele that we had bought for the girls on one of our trips to Mexico that had been hot pink to blend with the rest of the guitar nursery decor. Sorry, girlies!
Thanks for stopping by! Please vote for me!
FROM THE WEBMASTER
My husband is a guitar player so I can really appreciate your vintage guitar nursery theme and I can't think of a better name for a little boy. Thanks so much for sharing your nursery pictures!
I have one question, do you happen to know the name of the Pottery Barn baby bedding collection that had the bumper pad with the red and white stars? It is just too cute and I think it would look great in a cowboy theme nursery that a friend of mine is working on.
I look forward to seeing pics of the additional decorative items that you mentioned on mcwhorterfamily.blogspot.com! So I hope that you will stop back by to share more of your
Baby Boy Nursery Decorating Ideas

soon!
Jan