Cute Organic Baby Bedding Sets in Organic Cotton for a Baby Boy or Girl Nursery
Cautious parents consider organic baby bedding the best choice for a safe and pollutant free nursery along. Organic cotton nursery bedding and accessories gives newborns a space where their immune systems are not constantly being challenged with chemicals. Some childhood illnesses like the occasional cold accompanied with a runny nose are a fact of life, but exposing their child to toxic chemicals should not be something that new parents consider normal or acceptable.



Visitors Shopping for Organic Cotton Crib Bedding Also Enjoyed these Pages on This Site:

Organic Baby Nursery

Organic Baby Products

Organic Crib Mattresses



Most of us grew up with campaigns advertising soft, comfortable cotton as the fabric of choice for clothing and household items. There is no question that cotton fabrics are cooler and breathe better than synthetics like polyester or even silk. But you have to wonder about the pesticides and herbicides that are used to grow this crop.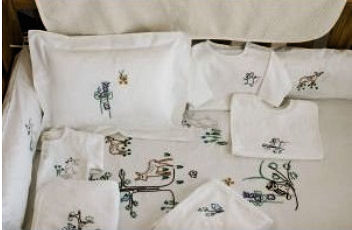 SEE MORE HERE
EXPERT OPINIONS
Some experts say that this mass produced, chemical cornucopia that is contained in commercial cotton is still in place even several trips through the washing machine. If this is a fact, it makes choosing organic baby bedding and nursery accessories a better choice from the very start.
THE CARNIVAL OF CHEMICALS
The possibility is that the chemical fun fest does not end at the time of harvest. Traditional processing methods could throw a few more known carcinogens into the recipe. It also might surprise you to know that heavy metal (not the kind daddy listens to when he is alone in the car) dyes may be what gave the finished product its bold, stylish color.


CAN WE TRUST THE EXPERTS?
What if the experts are wrong and none of the toxic chemicals make the trip to your nursery in the cotton fibers? Even if this is not the case we are still potentially putting our children at risk. We are doing this by contributing to the poisoning of our environment through continued support of traditionally grown commercial cotton products. Why should we support crops that are lavishly dosed with chemicals that could wash into nearby streams and water sources and find its way into our homes when there are attractive organic baby bedding sets that help avoid this problem?


WE GREW UP WITH WORSE AND WE'RE OK
Some argue that their parents didn't have organic baby bedding sets and they are just fine. It's true that the majority of us grew up with non-organic cotton clothing, towels and sheets without any obvious problems. The argument is that we have no way of knowing how long it takes for the negative results from early exposure to chemicals to make themselves known. How do we know that the cancer has attacked our mothers, fathers or friends was not caused by living in close proximity to a cotton field? There is no doubt that further research is necessary to ascertain that organic baby bedding is indeed better, but in the meantime is it best to make our decisions on the side of caution?
BENEFITS OF ORGANIC BABY BEDDING
The obvious upside to organic nursery bedding is the reduction of chemical exposure. Children who suffer from allergies or breathing problems will greatly improve when the air that surrounds them is toxin free. Another plus is that organic cotton is reported to be even softer and more comfortable. If organic bedding for cribs helps to keep babies more comfortable and safe why wouldn't we all try to do our part?
Return to find more Organic Baby Nursery Decorating Ideas, Nursery Themes and Decor, to read reviews of organic baby mattresses and to shop for organic crib sheets and clothing that will help you to keep your infant's room chemical free.
ORGANIC NURSERY BEDDING and DECORATIONS
Do you have a great set of natural, organic baby bedding or a picture of a nursery that you decorated in an eco-friendly theme? Share it!
ORGANIC NURSERY DECORATIONS, PICTURES and DECORATING IDEAS
Click below to see we found!