Ladybug Rug Selections for a Baby Nursery and Kids Rooms and th
A lucky ladybug rug would be just the thing to complete your baby's ladybug nursery theme and give your little one a soft place to play. There are selections that will complement the crib set that you chose and stay in keeping with your color scheme.



Ladybug Baby Bedding

Ladybug Nursery Decorations

Ladybug Nursery Wall Decorations



It would be a good idea to select fabrics with a very print or even solid colors for your bedding if you a planning to use an area rug covered with or in the shape of a ladybug. Conflicting, colors and images in a small area can be a decorating nightmare.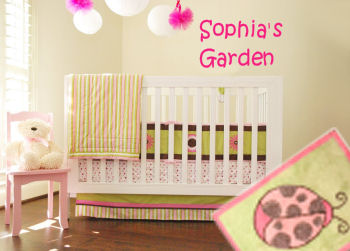 Go Here to See More
There is lots of ladybug baby stuff to be found in the latest combinations including pink and brown and red and black, but the most important thing is that the area rugs and accessories blend well with the bedding and window treatments. Ladybug baby bedding comes in many different colors as well as in price points that range from less than $50 to several hundred dollars.
Crib sets range from expensive, luxury sets to cheap, discounted bedding sets and all can be used with success, even handmade baby quilts. Pricing is not the issue. The practice of nursery design basics is what dictates whether the scheme will be pleasing or not.
Following the basic steps, work to distribute your ladybug accessories and decorative items in an orderly way around the room. Begin by working from the ceiling to floor. A popular way to begin is with painting a faux mural on your nursery ceiling. Introduce the sky to your baby by painting a cloud mural to look at from the crib. Add a nursery chandelier with a medallion and you will have a great start.

The ladybug nursery wall decorations will come next. Your little ladybugs will need a place to live after all! Desired ladybug garden theme accessories can include silk plants and flowers or even real greenery as long as they are in areas that baby can't reach.
It's also possible to incorporate all the greenery you would ever want by painting it on the nursery wall! It's always great not to have so much stuff to dust! Right?
There's also no need to free hand your nursery mural. If you have an older child, have a rainy day playdate and enjoy doing some ladybug crafts to include in your nursery decor! There's nothing like a craft project to turn a grouchy toddler into a smiling happy child and that's a known fact! Kids are also handy at stenciling or using wallies or stickers to create a natural habitat for your ladybugs.
Some wallpaper cut outs that will work well with your ladybug nursery theme would be any featuring a garden theme or design. Pull some other insects into your ladybug nursery decor. Images of butterflies, dragonflies, frogs and other forest creatures will get along fabulously with your sweet little ladybugs can be found online or use some photos for your ladybug artwork! Populate your dream garden with cutouts of picket fences, baskets and little girls or boys having a fine time in the sunny outdoors that you created.
Complete your ladybug nursery design by choosing an area rug in the right shape, color and size. One large area rug or several smaller rugs will be ancreate an area of visual interest on your nursery floor.
Nursery rugs come in actual ladybug shapes or your more traditional square, round or oval ladybug rugs with your ladybug shape motif either woven into the design or stamped on a solid color field. Bear in mind that a pink ladybug rug is as much a decorating option as a red one even though such a thing doesn't exist in nature. A children's novelty ladybug rug doesn't have to be restricted to a completely natural color scheme!
We have lots of ladybug theme nursery decorating ideas that will show you how to best display your pretty, black and red ladybug rug in our nursery picture gallery so please take a peek before you leave!