Best Baby Horse Crib Bedding And Nursery Decorating Ideas for the Tiny Equestrian
The first step in designing your horse theme nursery would be to choose a set of horse crib bedding in colors and styles that you like. Your options for horse theme fabrics are endless so you should be able to locate a color scheme that suits you. There are rocking horses and carousel horse for a merry go round theme, which is your favorite? Once you decide which genre of horse themed baby bedding you can begin putting your decorating ideas to work.



Horse Nursery Theme Ideas

Rocking Horses for Baby

Carousel Horse Nursery Ideas



After doing some research, I quickly come to the conclusion that horses deserve to have a decorating category all their own. Moms-to-be that are fond of or ride a particular breed may wish for their chosen favorite to be reflected in the horse crib bedding in their baby's room. Do you have lots of Percheron, Pinto or Paint Pony accessories that you are dying to display somewhere in your home? If this is the case, a set of horse crib bedding with a subdued print in a color that you feel you can work with might be the best route to take. That way the breed of your choice takes center stage and the nursery theme is more directed.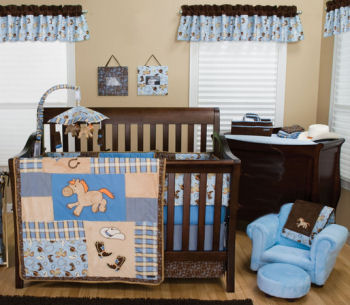 Go Here to See More

You may want a set of horse baby crib bedding with an equestrian feel that doesn't have the first horse printed on it. Cowboy hats, boots and bandannas work well with most any horse themed room, equestrian style of home decor or even a style of decorating that hints at a cowboy or cowgirl themed bedroom decor. Horse print bedding that has pictures of horses all over it would be very busy and might be hard to match with wallpaper, horse prints or other equestrian accessories. For a girls room theme you may be more inclined to go with a pretty pink or purple color scheme. Carousel horse themed baby bedding would be perfect for a girls room with a more feminine look that is still a horse theme. Carousel horses work well with flowers, ruffles and bows and lots of other pretty girly stuff. If you don't like the idea of carousel horse crib bedding but still want something that will go with traditional baby pink, try some Black stallion pictures and prints. Black and pink look great together.
Then there are the sets of rocking horse crib bedding that have been around for ages. Who doesn't have fond memories of rocking away the hours in their rooms on their favorite rocking horse? How much fun it was to pull on the rocking horse mane and tail? And our faithful wooden rocking horse didn't mind a bit and was always there for another day of fun. If you still have your beloved rocking horse all you need is a set of horse baby bedding as a background for this treasured vintage toy from your childhood. Pick a set of rocking horse crib bedding and some rocking horse accessories and putting together the rest of your rocking horse nursery theme will be easy!
Regardless of what kind of horses you own or love there are fabulous choices in horse crib bedding and accessories for your nursery theme.
Whatever you do, don't stall! Return to Unique Baby Gear Ideas for decorating ideas that will transform your baby's bedroom into a stall worthy of a Kentucky Derby winner.