Horse Theme Baby Nursery Decorating Ideas
Whether you are into barrel racing or foxhunting: percherons or paint ponies there is a horse theme for you. If you love horses or are involved in showing or riding horses we have some cool decorating ideas for you. Nailing horseshoes over the door for luck is great, but we have a few tricks up our sleeve that will be lovely in the baby's room along with tips for locating the best horse bedding sets and accessories. You can adapt many of the horse decorating ideas to work in either a rustic or an elegant nursery design.





When you think of a horse themed room, pictures of a crib comforter covered in a busy horse print fabric may come to mind. This may suit your taste perfectly but I would like to give you some other ideas for children's horse bedroom decorations. A horse print bedding set with a solid background in a good color scheme printed with some stuff associated with horseback riding could include boots, cowboy hats or horseshoes. All would work in either a baby boy's or a baby girl's room very nicely.
When you are shopping for that perfect set of horse print bedding, pay close attention to the matching sheet sets. You may be able to use a pair of extra flat king-size sheets to make some matching horse print fabric curtains. Buying extra flat sheets is an excellent way to get cheap fabric for making window treatments and other bedroom accessories like slipcovers, pillows or even a canopy for the bed.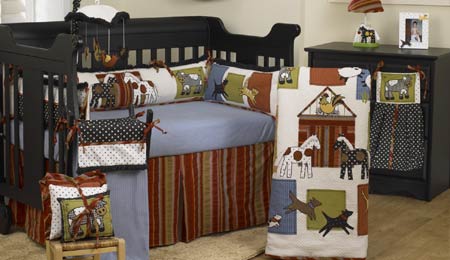 Go here to see more
horse themed crib sets and nursery decor for your decorating project.
One of the best ways to draw attention to your beautiful set of bedding is with a stylish canopy. Decorative trim can be added across the top layer or down the sides. If you have a set of twin beds in the room, two small canopies (one over each bed) will make your ceilings look so much taller and gives the room an expensive designer look at an extremely affordable price. Canopies are easy to hang, eye catching and give lots of bang for your decorating dollar.
A homemade canopy over the bed is an easy do-it-yourself project that doesn't require many tools and won't eat up your entire weekend when you could be out enjoying a ride on your horse! Your extra horse print sheets already have finished edges so the making the box support at the ceiling is the only hurdle to jump.
Decorate the crown of your horse theme canopy in keeping with your other accessories or purchase a canopy topper with no theme at all! Bright bandanas are great horse bedroom decorating accessories. One of the cute ideas for decorating horse bedrooms is to attach the bandanas handkerchief hem style across the top of the horse theme canopy and you can use them as window valances or toppers across a plain cornice. Bandana pillows are nice too.
If you're shooting for more of an elegant English equestrian theme, Western or cowboy theme decor simply will not do. In this case a couple of vintage riding crops and other competitive riding props can be substituted. The horse motifs can stay but the more rustic items have to go.
Replace your drawer pulls with horse theme knobs and furniture hardware. Turn a generic run-of-the-mill lamp into a fabulous horse themed lamp with the simple addition of some inexpensive horse lamp finials. There's lots of horse theme furniture and architectural hardware to choose from
Switch plates
Horse lamp finials
Horse or saddle drawer pulls
If you are planning a horse theme nursery you may want to check out some of the western baby nursery themes and bedding sets for ideas on how to put together a baby cowboy room or cowgirl baby nursery.
If the western style of horse crib bedding fails to strike your fancy, a solid color set of bedding would be best and then carry your chosen theme of horses around the room with metal horse hardware, rugs and accessories just like in an adult's themed bedroom.
Decorating the Nursery Walls with Horse Themed Decorations
Once you get the walls painted in a color that works with your baby bedding, you can use some leftover paint to paint your own wallpaper border using some horse silhouette stencil patterns. You can use whatever color combinations that you like, but I have seen flat black used on many horse theme bedroom walls with dramatic results.
You might need some three dimensional decorations once you have the walls painted. There are no better horse themed decorations that I can think of than wall shelves loaded with trophies or lassos and horseshoes nailed in decorative patterns on the walls.
So what are you waiting for? Giddy up and let's go!
Return to Unique Baby Gear Ideas to see more articles with pictures featuring various styles of horse themed decor.