Rocking Carousel Horse Nursery Theme Ideas
Baby Nursery Ideas for Carousel Horse Baby Bedding, Wall Paint and Decor

We have pictures of some rocking carousel horse nursery theme ideas filled with tips for wall paint, baby bedding and DIY decorations shared by mural painter, Lynda Bergman. The decoration ideas on this page will appeal to craft loving moms and dads with a love of horses of all kinds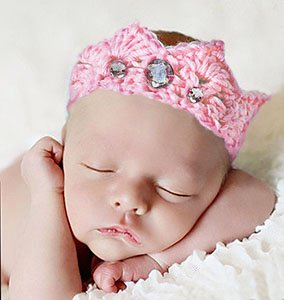 Go here
to get ideas for cute baby photo props!
In most cases the colors can be changed to include combinations to complement most any set of
carousel horse baby bedding
or perhaps the antique rocking horse that you would like to include in your little baby girl or boy's nursery design. If you don't see something that you like on this page I would suggest that you visit our gallery of
nursery pictures
for both sexes as well as neutral color schemes.
Blue, gold and antique white is the chosen color scheme for this
baby boy's nursery theme
.
The combination is perfect for the beautiful crib, baby blue bedding and elegant chandelier that the mom-to-be already had.
Not knowing the sex of the baby at the time the nursery mural was being painted called for shades of both pink and blue to be included in the design. The option to use neutral colors was not available since the crib set was baby blue which might have implied that the expected baby was a boy.
This vintage reproduction carousel horse nursery rocker is a good example of how pink and blue can work successfully as a team.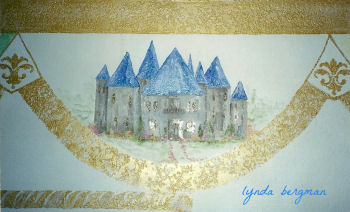 Decorative Artisan, Lynda Bergman
included a castle for a baby prince.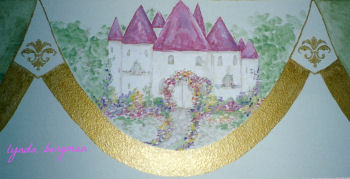 She also included a pretty, fairytale princess castle for a baby girl featuring a feminine touch of pink accented with floral wreaths and framed by fleur de lis painted with metallic gold paint.
Lynda used a wall stencil for the bottom portion of the design, the fleur de lis and a rope stencil to create the pole for the hobby horse.
The mural painting in this baby boy's room covers not just the wall but also the ceiling!
Painted Carousel Horse Nursery Theme Wall Mural
Lynda has a pattern for the carousel horse for sale in her online store if you would like to have one for the wall of your kids' room. You could paint the horse on fabric to use as a medieval style wall hanging as well as on the wall.
You could use it in a garden theme room with a painted fence in front of it and a field filled with colorful flowers behind it and you might also add a garden shed with old-fashioned hollyhocks for good measure if you have the space.
I want to give my visitors a really close look at the horse so that you all can see the beautifully painted details.
This mural is a lovely focal point of the room that will be be enjoyed for many years.
As the Baby Grows
Do not be put off by the permanency of the painting; it will grow with your child and if the time comes when the carousel horse nursery theme needs a makeover; there are many options like the prince or princess theme that was mentioned earlier.
Carousel Horse Nursery Ideas
Don't be afraid to experiment with the colors of the flowers or the diamonds of the harlequin pattern that is faux painted on the lower portion of the wall. Another tip would be to take the size of your baby's room into consideration and adjust your painting accordingly. Lynda will be happy to advise you on what would look best for your decorating project.
I hope that visitors to
Unique Baby Gear Ideas
have enjoyed this baby boy's horse themed nursery reveal and that you will visit Lynda's website for updates and to see more pictures of her work.