Special Baby Rocking Horse Selections in Both Wooden and Soft Colorful Styles for Baby Boys and Girls
With the right baby rocking horse for baby girls and boys, your little one can start to ride and rock as soon as he or she can sit without support from an adult. Unlike old fashioned wooden rocking horses, we now have rocking horses for baby that can be enjoyed very early, possibly around the time of your baby's first birthday!






We now have access to cute, colorful riding toys with features that will have baby rocking like a pro in no time. These rocking horses for the nursery offer the security of safety harnesses and a supportive back rest that helps a younger children who may not be as physically strong or able to hang on as older kids enjoy the ride.

Visitors Shopping for a Rocking Horse for Baby Also Enjoyed these Pages:


Carousel Horse Theme Nursery Ideas

Horse Baby Bedding

Horse Nursery Theme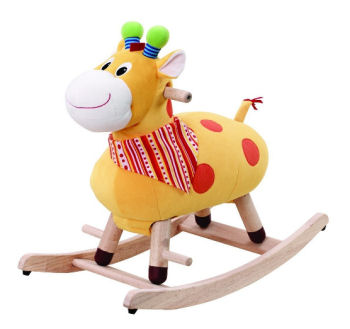 SEE MORE HERE
After baby is older with more developed motor skills these safety features and can easily be removed as she or he grows.
Many parents dream of the day that an heirloom rocking horse for baby that has been passed down for generations can be brought down from the attic and enjoyed. While a wooden rocking horse that a talented, woodworking ancestor made by hand is without a doubt a precious gift, there are many benefits to buying a modern rocker.
Modern versions often give parents the option of removing the base of the horsey so that the soft, stuffed part of the toy can be played with as a standalone toy greatly extending the time that a child can enjoyed. Plus, many new horses have sound effects and added attractions to hold baby's attention like rattles and blinking lights.



Make a Rocking Horse
Another benefit of buying new toys is that parents can be assured that their baby's rocking horse was made from and decorated with non-toxic paint helping to keep the
baby nursery
safe and as chemical-free as possible.
To be even more sure that the baby rocking horse is as natural and eco-friendly as possible, buy some rocking horse plans and either learn how to make a wooden rocking horse yourself or hire a professional woodworking shop to make one for you.