Best New Fleurville Baby Diaper Bags


Fleurville is a line of stylish baby bags that may become the best friend those moms that claim not to be dependant on diaper bags to organize and transport baby's essentials for travel to the mall or across the planet. These stylish totes are one of my favorites for spring and summer because of their colorful patterns. For later in the year, I've developed affection for the Escape Pods in black that look so elegant and sophisticated with my fall and winter clothes.




Even if I didn't require lots of storage for all the portable equipment, food and products required for infant care I would be hard pressed to find a better looking purse than the Fleurville Sling Tote. It would be especially challenging to find a bag that was as easy to keep fresh and clean looking and as comfortable to carry. Some consumer reviews stated that the vinyl on the outside of the bag was a drawback that caused a negative vote to be cast.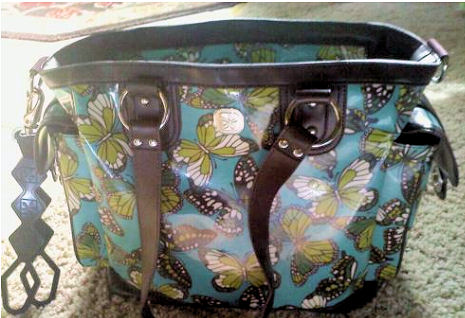 SEE MORE HERE
However, easy care is a big deal to me especially in summer when our Fleurville diaper bags are generally hauled to the beach and wallowed in the sand or the water. So, don't discount the value of this brand in comparison to more expensive designer diaper bags because of the vinyl cover because it doesn't make it look cheap or low quality.
SHORT AND SWEET DIAPER BAG REVIEWS OF POPULAR STYLES

SLING TOTES and CARRIERS
The sling tote has been swapped back and forth and traded more times than the stomach virus at the local daycare. This baby diaper bag is considered one of the best baby shower gifts for a very good reason. Moms are crazy about the wild, funky print fabrics that make a fussy day with a teething infant seem a little less dark and stressful. Our moods are lifted with the bright, cheery colors and those versatile straps and handles don't hurt a bit. On days when you feel a messenger bag might fit your needs better than a tote bag, you can make use of the detachable messenger bag handle and give those tired shoulders a rest. Another spec that I consider to be a pro is that it comes with all the attachments to attach it to your baby's stroller. So, there you have it; this baby bag is actually three diaper bags in one. You get the Fleurville Sling Tote baby diaper bag, a look alike of the Fleurville Mothership (discontinued?) bag and a stroller bag for one inexpensive price.
EFFICIENT FLEURVILLE ESCAPE PODS FOR THE MOM ON THE RUN
Escape pods are not limited to space stations or Austin Powers movies. The term also applies to small tote bags that are just roomy enough for a couple of diapers, your keys and a few other essentials that might be needed in an emergency. Why carry a large messenger bag when a small, lightweight baby bag will do the trick? Don't make the mistake of thinking that this small diaper bag is light on stylish utilities. The Fleurville Escape Pod is simply a smaller tote for short hops out of the house for short periods of time when there's no need to pack baby bath toiletries and other items that you might need if you were going to be gone overnight.
RETURN TO THE MOTHERSHIP WHEN STORAGE IS IMPORTANT
Fleurville knew what they were doing when they named this baby bag. The name, "Mothership", tells you a lot about this messenger style diaper bag. Consumer reviews all seem to contain at least one reference to the huge size of this bag. Reports vary as to whether the bulk is a pro or a con to moms. Most reports advice not to plan to carry this shoulder diaper bag for quick trips even though the carbineer clip that holds the car keys, the pockets for baby's bottles bottle pockets and changing pads got lots of raves and positive reviews. The consumers seem to agree that while the Mothership has a permanent place in their hearts and their diaper bag wardrobe, one of the other Fleurville bags should be on hand for light loads.
When shopping for Fleurville baby diaper bags(or nappy bags if you're reading from across the pond) be prepared to pay anywhere from $50.00 for the Escape Pods to upwards of 150.00 for the season's best Fleurville Sling Totes or one of the trendy large diaper bags in the Mothership line. These diaper bags are one of the best used diaper bags around because of their sturdy construction and the fact that they keep their new look for a very long time. If you need a cheap diaper bag, check and see if you can find a used one for sale on one the online auction websites. Please make sure that you completely sanitize and disinfect your used Fleurville bag before you use it for your baby's stuff!