Best Monogrammed, Personalized Diaper Bag Examples


Have you ever really looked at a Vera Bradley Diaper bag? I don't know if you sew, but if you do with some quilted fabric, a sewing machine and a pattern you can make your own right there at home. Even if you don't sew, you can buy your own fabric, get some monogramming done, pay someone else to do the sewing and still come out way ahead!


Or do it yourself and get a cool baby bag for a
CHEAP
price! Hottie Tottie, this is something worth learning how to do! If you are an old hand at sewing, get a length of quilted fabric and make some backpack baby bags that will be a hit at baby showers!
There are loads of ways to personalize your diaper bag. This page will not just have information and reviews for the crafty moms that know their way around a sewing machine or serger! Here are some ideas. You can take a plain baby bag and do wonderful things to it for a few bucks with a classic monogram or by stitching on a grosgrain ribbon as trim or make a bow and anchor it.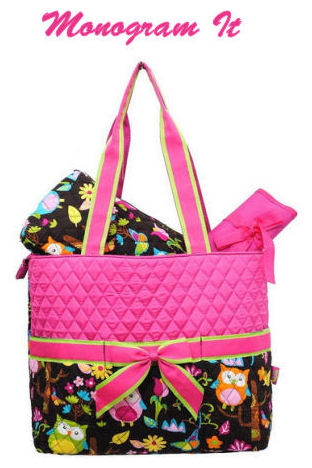 If sewing is just not your thing, get some fabric paint and stencil your monogram on the front of the bag! For that matter stencil or paint whatever you want! You can repeat a pattern of palm trees, bunny rabbits or teddy bears in whatever color you like! Take it from me after you personalize that baby bag, you will not recognize it!


I'm not picking on Vera, I think she makes a lovely baby bag out of quilted fabric, and you can too! This is a style of baby bag that you can do yourself. Your product will be stylish and cool because YOU will have had creative control! . Well, almost…you do have to have a pattern.

On fabric choices, any substantial weight woven fabric will work nicely other than stretchy knits. A nice quilted fabric or textured upholstery remnant would be perfect!

Simplicity has a diaper bag pattern that includes patterns for a baby quilt and a changing pad! But…

Don't run off and buy a pattern to make your handmade diaper bag just yet, ok? There's afree software program that will enable you to draft and print your own personalized pattern for your diaper bag! There are tools for planning embroidered designs to make each article you sew completely unique!

For a plain grocery style tote you can make your own pattern! Take your average run of the mill brown paper grocery sack and deconstruct it ever so easily so as not to tear the pieces. These individual pieces are going to be your pattern pieces.

I'm not even going to ask you to add for seam allowance because a little smaller may be a good thing! If you want a shorter version, whack a few inches off the ends of the top portion of the bag. You will not want to alter the bottom part of our template as gusset details are there.

After cutting your fabric according to our paper bag pattern let's sew!

First sew the short sides together. I recommend using a serger or if you only have a regular sewing machine use what my mother used to call a flat seam. (Like what Levi Jeans uses on their blue jean seams). This will help eliminate any future ravelling problems.

Next sew the bottom seam. Where you put your side seam is your choice, but you may want to try for a few inches from a folded edge.

Now for your gussets, make the bag flat with the bottom seam to the top. This is going to be a semi triangle shape. Look at this: Your seam across (see the dotted line) should be 7 inches. You will find that when you turn your bag it will pop right up just like the one you got at the grocery! Good work!

Now you make your handles. Take a fabric piece measuring four inches wide by twenty to twenty four inches long. You may want to play with the length measurement to make it as long or short as you want.

Fold the material in half so that it will be two inches wide by twenty to twenty four. Stitch down the long side one inch from the edge of the fabric.
Turn the fabric tube inside out. Topstitch down the middle of the tube for added stability and strength and….it just looks nice.

Cut this long flat fabric piece in equal halves.

A shoulder strap needs to be at least two feet long and a handheld bag's handles should be as short as 8 inches. If you know exactly how long you want your handles to be, cut each piece this length plus three inches.


To finish the bag find the center of the widest sides of the bag. Mark your hemfolds according to this graphic. About ¾ to 1 Inch and 1 ½ to 2 inches for the 1st and 2nd fold lines (see the graphic dotted lines) from the unfinished top of the bag. Pin your handle fabric (again refer to the graphic) along the 2nd fold with the handles against the wrong side of the bag with each handle end spaced about 5 inches from the other. Fold the 2nd hem down including your raw handle ends. Fold the handles up then pin in place. Run a stitch around the complete top hem. Stitch slowly, firmly and carefully over the handle ends as there are several layers of fabric here. Stitch a nice neat square or an X over the ends of the handles for extra reinforcement.
You can also buy a pair of handles and attach them to your baby bag with ribbon or a fabric tie. Embellish!
There you go! Now, you can have a blast embellishing and personalizing your diaper bag with fun fur, glitzy buttons, monogramming or do a cross-stitch pattern on the sides of the baby bag!
Make several! What a unique baby shower gift a handmade diaper bag will be! A friend would rather have a lovely homemade gift from the heart than a Coach or a Kate Spade baby bag! Well, in addition to a Coach Diaper Bag or a Kate Spade anyway!
Most moms have a distinctly shallow nature when it comes to diaper bags. Whether it be a designer diaper bag,backpack,personalized or handmade diaper bag they all have a place in our collection of unique baby gear.
After you have made your own diaper bag I hope that you will stick around Unique Baby Gear Ideas to explore the many nursery themes, decorating ideas and other features that new parents may find very helpful.