The Celebrity Diaper Bag Obsession
How can we resist the desire to own our favorite celebrity moms' diaper bag? These stylish ladies seem to have it all. They are blessed with a salary tagged with enough zeroes to choke a calculator, boyfriends and husbands to die for and those babies; well, those babies dressed in designer outfits that we see in the pictures taken of them in expensive strollers while out on the town are just too cute!




Those of us lacking in movie star looks and a model's statuesque figure may be even more inclined to pay close attention to what kind of designer baby bag that celebrity moms use to carry their infant's essential items. The reason for this harmless obsession could be that for a few hundred dollars or less, we can have a tiny taste of what it feels like to be a movie star mom.
Do you want a diaper bag just like your favorite movie star mom carries or a baby carrier just like the one her baby's daddy uses to carry their little one?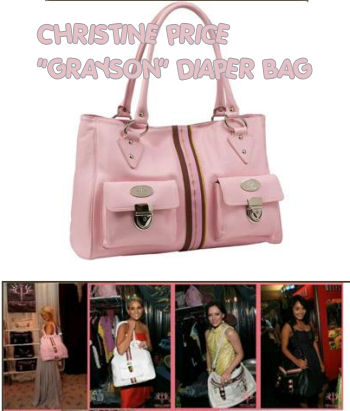 Sure you do! You see so many pictures of celebrity moms with their kids and the baby gear in tow. Then again, there are some more obscure choices that are so cute that you've just got to have them even if they aren't being used by movie stars. Yet. There are the popular Vera Bradley baby bags if you've got cash to burn, try out baby bags Gucci style! If you've got the budget, they've got the baby bag for you!


CELEBRITY DIAPER BAGS
There are many diaper bags that are favored by one celebrity mom and dad or another. Because of the Hollywood baby boom, most of the high end clothing manufacturers now have their own line of designer baby products including exclusive baby bags.
I'm not sure if the marketing teams at each house of design make a point of delivering a free designer diaper bag as a baby gift to celebrities or favor stars who are known to wear their label on a regular basis.
NEW BRANDS
If every new mother restricted her wardrobe of baby bags to top designers alone that would be just too predictable as well as boring. It is always exciting to see a new brand make its debut on the arm of a famous mother or father. This is to the benefit of gossip magazines and the companies that specialize in baby haute couture as well. Because the anticipation of catching a particular style or color trend in the early stages is what keeps everyday, run of the mill moms like me and you buying magazines and movie tickets.