Free Baby Stroller Liner Pattern Sewing Tutorials
Cushion Your Baby's Stroller Seat with Beautiful Fabrics

I started looking for an EASY, FREE baby stroller liner pattern after the first time I took my baby girl out for a spin in her jogging stroller on a summer afternoon. She started to get damp and fussy very quickly because her stroller seat was not "wicking" the moisture away from her little body.  Now, I'm happy to say that I'm happy because the stroller liner sewing patterns and tutorials that I found are very cute and she is happy because the liner is so much more comfortable than the seat without a cover.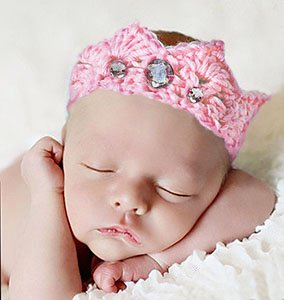 Go here
to get ideas for cute baby photo props!
It also goes without saying that the liners are so much cuter since you can choose any fabric that you like to use for your project. Now, I know you want to start sewing as fast as you can so that you will have your nifty, new liner ready for the next trip out in the stroller so let's get started, shall we?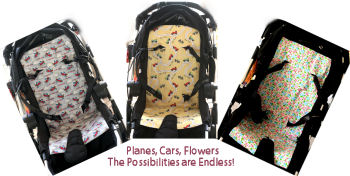 You can eliminate those annoying questions as to whether you have a baby boy or girl by carefully choosing masculine or feminine baby fabrics.
examples of stroller liners to give you an idea of what color or style that would work best for you.
No matter what pattern or fabric that you choose, you should take care that it fit your
baby stroller
properly and not interfere with any of the safety features or functionality of the belts and fasteners.
When making your own baby stroller liner pattern or when following a free pattern that you use online like the excellent tutorial shared on the
While You Were Sleeping Blog
, proper placement of the strap openings is crucial.
This is very important but even beginners shouldn't let this intimidate them since the openings are just
HUGE
buttonholes. Yes, the openings on the that you will pull the straps through are just
BIG
buttonholes! TIP: Measure the width of your straps before cutting the openings to get a good fit.
The best choices for a stroller seat cover or liner pad would be quilting fabric or flannel in 100% cotton because it is breathable and will keep your little one more comfortable. I made my baby's stroller liner using flannel fabric and made a
stroller blanket
to match. This set would make a very nice baby shower gift if you know the brand and model stroller that the mom-to-be will be using.
Sewing Supplies
You will need supplies for making your baby stroller liner pattern as well as fabric and sewing supplies to make the actual seat liner.
A large sheet of paper. You might use a couple of sheets of butcher paper or newspaper taped together to get the proper size surface
A soft lead pencil to mark the edges as well as placement of the strap openings
Measuring tape and a ruler to take measurements of the liner from top to bottom, side to side and of the straps and openings
Craft scissors to cut the paper of the pattern and fabric scissors to cut your sewing material
Cotton fabric (two contrasting patterns for a reversible liner is nice)
Quilt batting to make the liner soft and fluffy. I tend to use organic materials for all my baby sewing projects but polyester quilt batting will work as well.
Sewing thread in a color that matches your two cotton quilting fabric patterns.
Quilter's straight pins with large heads are worth every penny you pay for them. They are easy to use, hold everything in place very nicely and if you happen to drop them on the floor they are easy to find due to the large colorful heads.
A seam ripping tool is handy to remove stitching that you wish you had not made; don't ask me how I know.
How to Get Correct Stroller Seat Liner Measurements
You will need exact measurements to make a baby stroller liner pattern. You need to measure the length of your stroller seat liner and the width. You can get the length by adding the height of the seat to the depth.
Our friend, Suz, from the
Sew Pony
blog has lots of tips in her tutorial for making a pattern and for sewing a very sturdy liner.
Then you will measure to mark the position for the openings of the upper straps (your stroller may have more than one set of top and bottom strap openings) and the bottom straps. When you are sewing, you will sew all the layers of fabric and padding together and you will also make the large button holes I mentioned earlier that the straps will pass through. Please tell Suz and Jenya that you heard about their free baby sewing patterns on
Unique Baby Gear Ideas
.