Baby Blanket Types, Sizes and Patterns to Make
If you have dismissed the idea of presenting a baby blanket as a gift at the baby shower, I hope that I can change your mind. Even if you have knowledge that the new baby will be receiving more than one blanket from friends, there is room in any layette for more than one.
Newborn crib or stroller blankets should be part of a complete wardrobe. There should be a collection with one for every temperature and season and fashionable young moms also like to have blankets of different colors that will match the clothing that baby will be wearing.
Pink blankets for baby girls and blue for baby boys are traditional, but be aware that modern moms and dads do not shy away from rich shades of purple, red and green.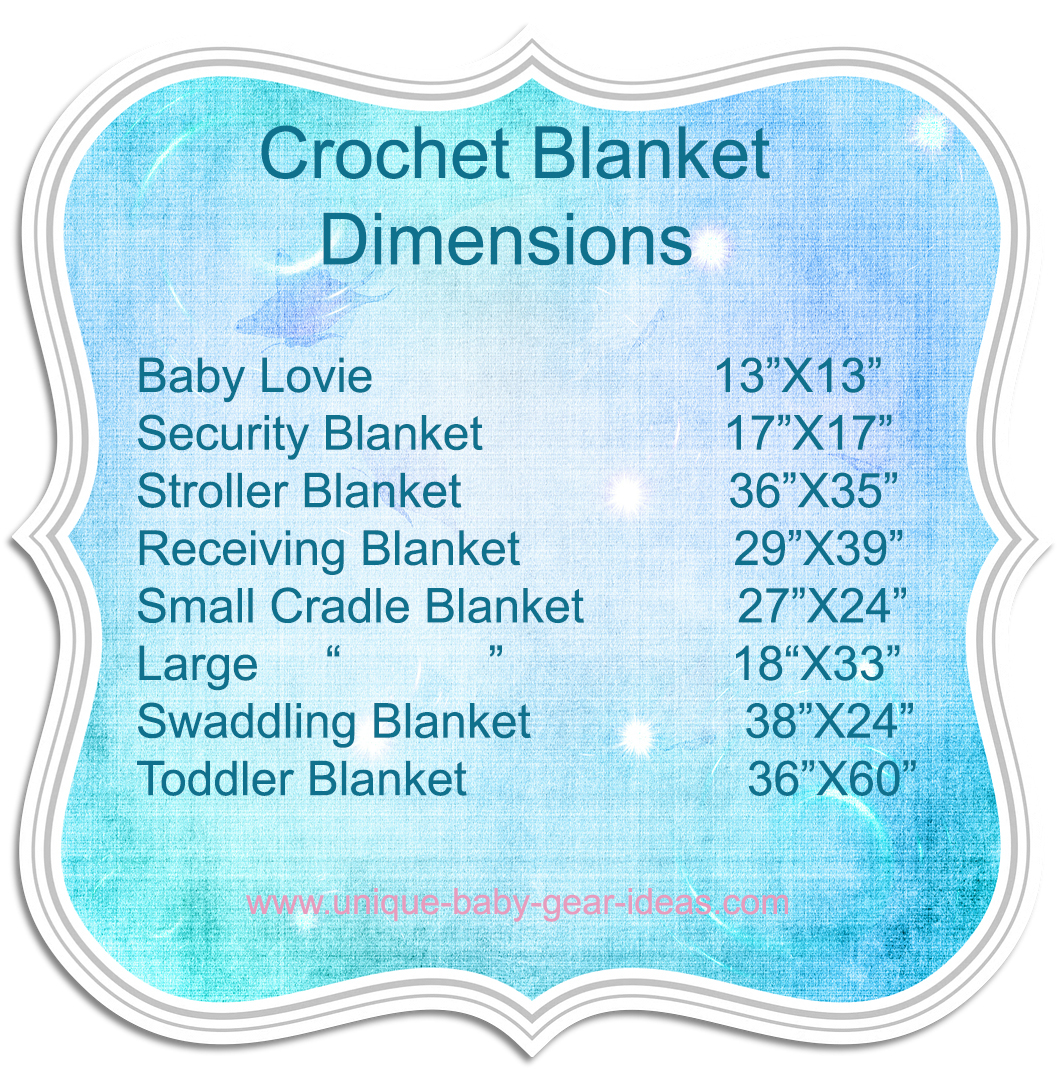 Learn what kind of baby blanket may be unsafe for use here.
Decide what size
knit baby blanket
or what size
crochet baby blanket
is needed before downloading one of our
free baby patterns
and buying yarn. As you can see from the diagram above that indicates the various types of blankets, size and material requirements vary.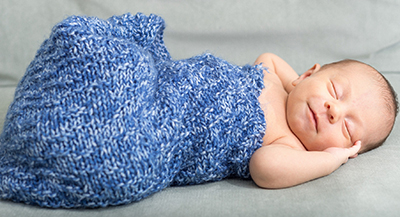 There is an old saying "Swaddled Babies are Happy Babies" and another that was no doubt coined by a mother with a colicky infant, "A Swaddled Baby Makes for a Rested Mother". However, the decision to swaddle or not to swaddle is a very personal one that should not be made without getting all the facts and carefully weighing the pros and cons.
Moms adore receiving a stack of lightweight, flannel receiving blankets as gifts at their baby shower. Personally speaking, my due date was in late April. The assumption was that anything heavier would be unnecessary because it is common for the temperature in my area to reach ninety degrees by the first of May. The baby's diaper bag always was prepared and ready in case the weather turns cooler than expected or if an unexpected accident or spill comes along.
There is really no such thing as having too many receiving blankets! They come in handy as burp cloths or bibs diapers in a pinch. Lightweight blankets made of cotton flannel fabrics get softer with each washing. Once baby outgrows them, they make the most wonderful dust cloths and for some reason, the most beloved baby security blankets.
The upside of fleece blankets is that they are so easy to care for and come in such bright and colorful patterns and themes. Even if you don't know one end of a sewing machine from the other, you can make your own no-sew fleece blankets without a pattern or any formal training. I would use cotton fleece rather than synthetic fabrics even if cotton is more expensive due to the comfort factor.
Cotton Flannel Baby Fabric The best blankets and quilts are not to be found in a store, they are handmade by special friends and relatives who put lots of love and care in choosing the best knitting or crochet patterns and yarns that won't irritate a baby's sensitive skin. The time is an investment because homemade baby afghans and quilts often last many generations with proper care. How nice to use the same crocheted baby blanket for your child that covered one of your ancestors in their cradle. There are moments, even in warm weather, when flannel blankets are just not fancy enough. For special occasions, such as the holidays,
red blankets for babies
created using luxurious, finely textured fabrics are especially appreciated. Cashmere and chenille baby blankets are much more suitable to cover your baby when they are dressed in their Sunday best. For baby boys, an embroidered baby blanket with pretty piping on the edges would dressy enough for a christening or baby dedication ceremony. For a baby girl, a silk blanket edged in lace would be more fitting.
A Baby Blanket Is the Best Shower Gift Idea
As you can see, there is a variety of blankets that can be presented as a gift that will be sure to impress. There are some creative, unique ways that you can decorate the blanket so that it will be sure to become a family heirloom rather than a rag used to wash the car. Embroidered baby blankets are an inexpensive way to be sure that your gift is a winner at the party.
For example, pick up a kit that includes all the embroidery thread, needles and fabric that you will need or you can buy some flannel, binding and pick your own motifs. Embroidered pictures of animals, Disney princesses or any characters that might reflect the theme of the nursery are a nice touch. Consider presenting a
personalized baby blanket
with the boy or girl's name and birth date embroidered on a corner of the blanket and of course,
baby quilts
are always a treasured keepsake.
There are many vendors of personalized blankets online as well as many baby boutiques that can help. Just remember to order several weeks ahead of time because blankets are popular gifts and most stores have a backlog of orders.
Many baby stores offer baby gift sets that come with an elegant blanket, a rattle or some other crib toy and a matching bib. Gift sets always make a lovely presentation but are often expensive. Why not gather your own baby items and make your own for a cheap price?
No matter what kind of baby blanket you decide to buy, you can rest assured that it will be most appreciated and well used. Return to
Unique Baby Gear Ideas
for more information on baby gifts and nursery decorations.