Best Cotton Baby Flannel Fabric for Receiving Blankets, Quilting and Infant Clothes
Modern moms have little time to do much quilting or sewing but many have a stash of flannel fabric tucked away in a closet or drawer. The soft baby flannel quilting fabric comes in very handy for a quick and easy, homemade baby shower gift like a receiving blanket that can be hemmed and then personalized.





The ambitious seamstress with a few yards of cotton flannel and some time on her hands might add a matching burp cloth and bib set to her flannel baby blanket. This gift makes a lovely presentation and is so very cheap! The flannel fabric in cute baby prints will cost less than $10 for all of these items. If you find some on sale and are able to buy at a discount, that will leave even more wiggle room in your budget to pick up extras for your gift basket.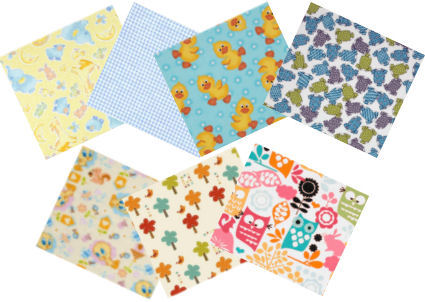 Go Here to See More
NOT YOUR GRANNY'S FLANNEL FABRIC
And if you haven't had a chance to check out the quilting fabric prints lately, are you ever in for a surprise! Nothing against traditional baby flannel fabric, but dainty diaper pins, puppy dog paw prints and kittens in pastel colors can be a little boring. Thankfully, cotton flannel is now available in all the best nursery color schemes and themes to match the baby bedding sets for boys and girls that are in the stores right now!
BABY GIRL FLANNEL
Buy flannel with polka dots, hounds tooth, Hello Kitty prints and more for the little darling in your life. Feast your eyes on the prints and fill your shopping cart up with fat quarters that will keep you quilting for years!
BABY BOY FLANNEL
Teddy bears are cool but so are transportation prints covered in trains, boats and planes in colors…oh, the colors! Who would have ever dreamed that eye popping John Deere green tractor prints would find their way into flannel fabrics? And speaking of wild, the wild animals and fish prints will appeal to a mom with a rustic, log cabin or country style nursery especially when they are mixed and matched with plaid flannel fabrics in complementary colors.
GENDER NEUTRAL
Moda monkey flannel fabric, jungle print flannel and fun novelty prints are a sure bet if you are sewing some homemade gifts for a shower where mom is keeping the baby's gender a secret.
VINTAGE
There's always a place for old fashioned patterns with sprigs of roses and tiny yellow ducks. Sweetness never goes out of style in a baby's room. And what could be sweeter or softer than a tiny newborn swaddled in a powder pink or blue receiving blanket that was made by hand?
Flannel fabric may fade with time, but as the colors and patterns fade you may find that the material gets softer with every trip through the wash. When and if you find that a spot has worn through a favorite blanket or sheet, don't throw the item away! You can recycle the unworn portion of the flannel to use as dust cloths or cleaning rags that are virtually guaranteed not to leave the first scratch.
I love to see pictures of things that moms make themselves for their babies. If you have a quilt or set of baby items that you have sewn, please take a minute to upload pictures of your homemade goodies to share with other moms who stop by Unique Baby Gear Ideas and Nursery Ideas.