Periwinkle Blue Giraffe Baby Nursery Ideas with Contemporary Style
by Patty
(Akron, PA)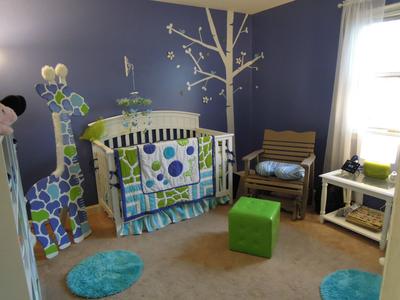 Contemporary Neutral Periwinkle Blue Giraffe Baby Nursery Room Decorating Ideas
Expectant moms and dads that stop by will want to know inspired your giraffe baby nursery theme - was it a book, a picture, the baby bedding set? Was the periwinkle blue color scheme your idea?

I wanted to decorate the space with a neutral color that wasn't the "normal" neutral color. So I decided to use a palette that included a dark shade of periwinkle blue with some accent colors.




The accents that I decided on were green and aqua, which may normally be considered as baby boy colors but when teamed in the shapes of birds and butterflies.




I thought this added just the right amount of touch of "baby girl" in there to make it adequate for a baby girl's nursery, but not so much that it wouldn't fit just as well for a baby boy.
Go here to see more
giraffe themed baby bedding, nursery decorations and the necessary crafts supplies to complete your own nursery decorating project.
What brand and color of periwinkle blue paint did you use for the nursery walls?
I used Colorplace paint from Walmart. I do not recall the actual name of the color since I had envisioned this room eventually becoming the baby's nursery years ago when we first bought our house (and therefore painted it then) but had no immediate plans to start a family.
Please tell us how you made the adorable giraffe theme growth chart and tree wall mural
My husband cut out the giraffe shape from plywood and I painted it myself to make the growth chart. We chose to make our own DIY stand-alone growth chart rather than to just paint it on the wall for added effect.
I painted the tree on the wall myself and to give it a more custom and personal touch, I decorated it with painted wooden birds with card stock wings, and butterfly embellishments I found at Michael's. These decorations give the designs more depth.
Where did you buy your Graco Charleston baby crib?
We bought the white Graco Charleston Crib from Burlington Coat Factory for $169.99 which is a really good price.
Where did you get your nursery glider and ottoman?
My husband works at a shop that makes outdoor lawn furniture out of poly-lumber (Go Green!)and he made the glider chair himself! The green cube ottoman was bought at Walmart.
Was the side table bought to match the white Charleston crib?
The side table was an old table that my husband had when we married. I refinished it to match the contrasting white in the room.
Visitors to Unique Baby Gear Ideas will want to know where you found the blue and green giraffe baby bedding set. The striped and giraffe print fabric selection is perfect; is this a custom crib set and was it the inspiration for your giraffe nursery ideas?
I designed (and my sister sewed) the baby bedding set. I bought most of the fabric that went into the design at warehousefabricsinc.com. Also, my other sister recovered the old, hand-me-down Fisher Price baby swing for me as a baby shower gift.
Did you and your talented sister also make the sheer, white nursery curtains?
The window treatments consist of sheer white curtain panels hung on a simple white curtain rod found at KMart.
The nursery rugs reflect the aqua blue and bright green colors of the giraffe baby bedding set perfectly; where did you find them?
I bought three round, bathroom rugs in aqua and lime at Walmart to add a little bit of a pop.
The green table lamp is another great color match perfect for the room's decor; you're really good at this, Patty!
I bought the little green lamp for the side table at Target.
I can't wait for you to tell us how you made the baby's mobile.
The supplies I used to make the crib mobile included:
a cross stitch frame
painted wooden birds
a butterfly chime that I cut up in pieces to use for this purpose
fishing line
I tied it all off with different ribbons and hung it above the crib using a plant hanger.
The cubby is beautiful..is it a DIY nursery project, too?
My husband and I built and painted the large cubby unit ourselves! I got the baskets at the Dollar Tree (They were just my colors!). I bought the small cubby unit to hold the baby's storybooks at KMart.
You mentioned that you were brainstorming giraffe baby nursery ideas long before baby was actually in the works; how long did it take you to complete the design?
The decor was a work in progress for several years because, as I said before, I had been envisioning it ever since we bought the house. I picked up various decorations and decorative items along the way as I found them over time.
But the handmade items featured throughout the baby's room were all made and brought together within the course of about a month and a half. I'm sure we could have done it quicker, but we had time so we took it.
It seems that you, your husband and your sister all put a LOT of work into decorating the nursery; was it as much fun as it was creatively rewarding?
I had a fun time making and designing all of the things and seeing how it all came together. It was more work than I had originally expected, but yes..it was so much fun. Now I can look at it with pride, knowing how much time and effort was put into it by Mommy, Daddy and Aunts to make the perfect nursery for Baby!
My husband helped make the cubby storage unit and the stand-alone giraffe growth tracker.
My sister made the custom giraffe baby bedding set.
My other sister recovered the Fisher Price swing.
What do you love most about your finished DIY nursery decorating project?
I love the contrast of the colors and the fact that I reached beyond the "normal" neutral colors or themes for a "different", one-of-a-kind nursery! If were to choose my two favorite features the would be the stand-alone giraffe growth chart and the painted tree wall mural.