Baby Fish Theme Nursery Bedding and Nursery Decor
Fish decor is relaxing. A baby fish theme may be perfect for baby rooms for for that reason. There's something about flowing water that calms and soothes when nothing else will. Colorful fish wall decorations or a mural for baby to watch with a set of fish themed baby bedding and you have the optimal background for a peaceful nursery for a newborn. This style of decor could be the beginning of a lifelong hobby for you and your child to share.




Don't be surprised if he asks for a salt water aquarium to add to his room decorations as soon as he can talk. This is a theme that baby can grow with. Whether you choose tropical ocean fish or flyfishing designs for your nursery, when a small bedroom makeover is in order you will be able to keep the majority of your decorations which will prevent future decorating projects from getting too expensive.
There are many fishing themes as well as baby bedding sets to choose for your decorating project ranging from rustic hunting and fishing themes to the most colorful designs based on tropical fish.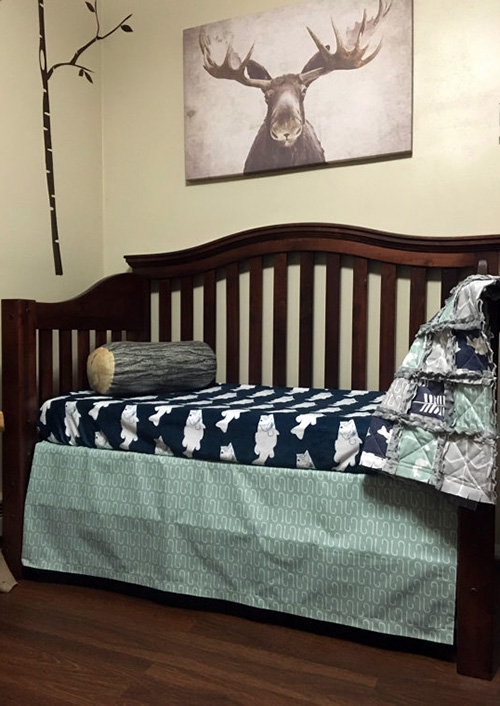 Visit
EOCKBaby
to see more fish theme baby crib bedding sets for your nursery decorating project.
Fish Wall Stickers, Decals and Wall Arrangement Ideas
If you want
really large
decals of sharks, whales, dolphins or other sea creatures on your nursery's walls but don't want to take the time to paint them in detail, consider using some oversized wildlife stickers. Float tropical baby fish nursery stickers across a sea blue wall and paint some bubbles floating to the top of the room! Take some time and watch the Spongebob cartoon show on television. The series is based on baby fish and other creatures living on the bottom of the ocean. You can get excellent nursery decorating ideas for your baby fish nursery theme from these cartoons!
KIDS TROPICAL FISH DECORATIONS
Fish Shaped Rugs

Fish Nursery Bedding

Tropical Fish Wall Stencils

Ocean Theme Nursery Decorating Ideas

Underwater Wall Murals


PICTURES of FISH THEME NURSERY DECOR
Do you have a great set of baby bedding or a picture of a nursery that you decorated? Share it!
NURSERY PICTURES, IDEAS and SUGGESTIONS from our FRIENDS
Click below to see contributions from other visitors to this page...

Alayna's Underwater Nursery

At first, no one could believe that we chose to paint our baby girl's nursery blue! But Alayna's underwater nursery theme turned out to be so cute that …
TROPICAL FISH NURSERY DECOR with Added Bonus of Birds and Bubbles

Last week I got down to business on the details of our baby's tropical fish nursery decor . To save both time and money, I had hoped to avoid painting …
Tropical Fish Nursery Decorating Ideas for Baby Girls

For a baby girl, there's Disney's Ariel the Mermaid. To build a nursery theme around Ariel is a no-brainer! Display some sea creatures and shells and Disney will take care of all the other decor details for you. All Disney bedding collections come with loads of baby fish theme bedding and decor. While this collection is primarily focused on the toddler to early elementary school age child, there's nothing that says you can't pick and choose a few items for your baby's nursery. Use these pieces to cook up some crafty ideas and to get decorating inspiration.
Fish Nursery Ideas for Baby Boys

Stenciled or painted tropical fish swimming in and out of the sunken ship's portholes! Don't forget to include some pictures of a pirate's sunken treasure chest. If you want to make the pirate wall mural three dimensional, use your hot glue gun to attach some gold doubloons and costume jewelry to the painted bounty on your nursery walls. If you feel that your limited artistic ability would not allow you to paint your sharks, stingrays and other fish for your underwater mural then you will want to visit our fabulous page of wallpaper cut outs and wallies to create your design.
Fly Fishing and Freshwater Fish Decor

There are now as many freshwater fish theme nursery bedding sets for the crib as there are tropical. For this theme, take your decorating ideas from fisherman that frequent the lakes and streams rather than the ocean. For this style of decor, you can decorate with vintage fishing lures, poles and woven creels as well as some largemouth bass that dad caught on his last trip to the cabin in the woods.
Think of all the wonderful colors that can be used with baby fish theme for nurserys! Tropical fish tanks are a great place to get nursery decorating ideas for an authentic underwater themed room. When I think of an underwater theme, the perfect color scheme that comes to mind consists of shades of nautical blue, sunshine yellows and coral pink.
What a wonderful way to complete your theme and populate the ocean with realistic images that will enchant both you and your baby.
Colorful, lively baby rooms are educational and play a key role in the development of your baby's mind! It's never too young to begin learning about aquatic life!
Please visit Unique Baby Gear Ideas again soon as we add more pictures of fish themed nurseries and share more creative baby fish theme nursery projects and designs every day!