Underwater Mural Ideas for a Baby Nursery Room Wall or Ceiling
Creating an underwater mural in your baby's nursery or in your kids' bedroom is going to be easier than you ever dreamed. Sorting through the selection of huge wallpaper murals to small tropical fish stickers may take a little time but that's no big deal. The hardest part is making a decision as to what kind of mural is best for your space and skill set.


Go Here to See More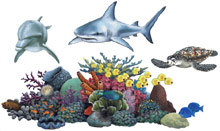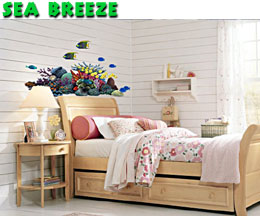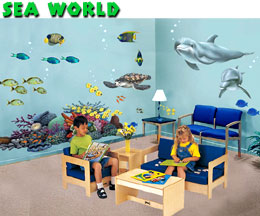 This example of underwater art consists of stickers featuring various species of marine life including tropical fish, sea turtles, sharks and coral making for a colorful yet restful scene.
As you can see, by using vinyl stickers and wall decals, you can easily create an underwater mural complete with tropical fish and ocean creatures with little or no creative abilities.
As far as wall color is concerned, the sky is the limit. Most kids' wall murals are filled with color. Home owners may choose to paint the walls a deep ocean blue to create a realistic foundation for their underwater mural. But apartment dwellers who don't have the luxury of painting the walls may be restricted to decorating the existing white walls with decals.
And then some decorators who are not at all comfortable with their artistic abilities or new to the concept of do it yourself decor prefer full wall murals that cover the wall from floor to ceiling. This method is more expensive than the other two, but they get the job done in a jiffy and they are LARGE, eye catching and washable which makes them popular for decorating the walls in kids' rooms.
Sea life stickers make a perfect mini wallpaper mural for a small wall or an area over the baby's crib. For a really small space, a few tropical fish with bubbles might be all that's needed! You can also use them to decorate the headboard of your kids bed or baby's crib or give a wallpaper mural that personalized touch.
You can design a nursery wall mural that is a scuba diver's dream in a few short hours using stickers and underwater art! Murals with an aquatic theme will work to decorate older kids bedroom walls as well as the nursery. They have also come into their own as a wall decoration or background to a spectacular designer baby nursery theme! There are some quick, easy and even cheap ways to paint an ocean theme on your walls and it's lots of fun to arrange your tropical fish stickers and decals however you like.
If you're creating an ocean in a baby nursery; you want to keep it light and fun! Some cartoon sea creatures and fish baby bedding and sea creature wall decorations will entertain your baby for hours!
You can create fabulous realistic underwater scenes and seascapes if you're not into cartoon pictures of fish and sealife. A scuba diver (we used to call them frog men!) would be a nice addition to a baby boy's underwater theme bedroom wall. For a baby girl's bedroom underwater mural a pretty mermaid would be a nice touch. Follow suit with an ocean motif baby bedding set with a print in colors to coordinate with your underwater themed kids mural. If your kids mural is a cartoon style ocean fantasy, your baby bedding should be just as playful and filled with mermaids, seashells or colorful tropical fish!
Look at some pictures of underwater scenes. Really look at the pictures and pay close attention to the background of the picture that you like. What color is it? This step is perhaps the most important part of the instructions. This will be the most dominant color of the ocean scenery painted on the walls. Is it a shade that you can decorate around? If not, play with the color family a bit. As long as the paint color that you choose for your underwater mural is a marine shade of deep blue or even blue green, you'll have a water color that will look look with your tropical fish, coral and other salt water sea creatures.
UNDERWATER MURAL – OLDER KIDS MURAL
If your underwater mural is being painted on an older child's bedroom or playroom wall, there are a few characters that you can add. Where skeletons lounging in an old pirate shipwreck might be a little scary to a toddler, to an older kid that spells adventure! An older kids underwater mural can have killer sharks swimming in and out of the wrecked ship's portholes. A pile of skeletal remains sporting a Napolean like black pirate hat can lounge on top of a pirate's chest full of gold coins and shiny gold jewelry from ancient times. Have your dead pirate hold an aged pirate's treasure map made of crumbling parchment in his bony fingers. The ship's masts can still be standing tall with pieces of the tattered Jolly Roger flag floating in the seawater for added depth.
An underwater mural makes a great addition to a pirate theme room. Here's the easy and quick way to get a 3D underwater ocean theme mural, paint the main wall color yourself. Use a dark aquatic color for the top two thirds of the wall and the best sand color you can find for the bottom third. You can even get sandy textured wall paint! Then use wallies (wallpaper cut outs), stickers or decals to transform a boring wall painting project into a modern looking 3D mural! You can get all the angel fish, octopus, whales, stingrays and killer sharks that you need. There are some cool props that come in the underwater theme stickers, too! You'll need a wrecked rotten hull of a pirate ship, the treasure chest and the anchor for sure!
Here's a cool mural idea that is what will make your underwater mural a prize winner, be sure to extend your kids mural beyond a clever wall painting with cool tropical stickers. Do this by adding your 3D effects in a third layer. Here's an excellent example of a 3D underwater mural that kids will LOVE! Paint your tall ship's masts and fly a REAL cloth Jolly Roger and other nautical flags from a strategic point. Make sure that the flag is little more than a rag so it will look realistic. After all it's been underwater for about a century right? Perhaps glue a few gold coins about on top of your painted gold coins spilling out of the dead man's chest. Get the picture? 3D! Make your underwater mural truly unique by making it three dimensional! Be bold and daring and have a UNIQUE and different underwater mural that nobody else has created even in their wildest dreams!
Visit Unique Baby Gear Ideas see more examples of underwater wall murals and where murals of this type have been used with great success, please visit our nursery picture gallery.