A lightweight set of baby crib bedding sets with a fish print is lovely for those cool nights by the seaside. There are so many cute colorful tropical fish print fabrics and sheet sets for sleeping with the windows open on warm summer evenings spent at the beach.


There are so many pretty fish baby bedding sets and themes to use them in that mix and mingle exotic colors, as well as tropical patterns and prints. So what if you don't want a completely natural look, I have seen pictures of fish and their underwater friends swimming in an ocean full of polka dots in shades of lime green and nautical blue.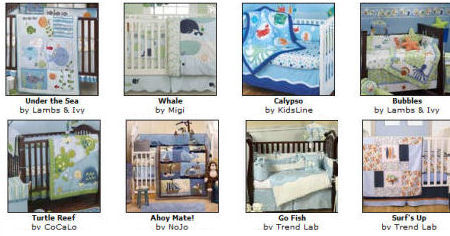 SEE MORE HERE
BEST BABY NURSERY THEMES for FISH BEDDING SETS
Nursery themes that would look fabulous with a crib decorated with colorful baby bedding in tropical fish theme would be:
This is a new trend in baby bedding and adult size bedding as well; anything goes. All the motifs, colors and patterns in your baby crib bedding sets with fish don't have to resembly how they appear in nature or match perfectly. So long as all the elements in the color scheme blend well, you should be fine. In fact, the funky eclectic look is very fashionable.
Tropical fish baby bedding with pretty angelfish, gold Koi fish, octopus and crabs will give you all kinds of nursery decorating ideas on how to accessorize the bedroom with seashells, bits of colorful coral displayed on shelves and don't forget to frame all of the fun pictures of family vacations at the beach for hanging in your fish themed room. Family beach vacation pictures are often overlooked as FREE decorating accessories that blend nicely with baby crib bedding Sets with fish as a theme.
For a baby's room don't forget to get some coordinating sea creature shaped drawer pulls to turn that plain baby changing table and dresser into custom design fish theme baby furniture. A sea creature themed baby mobile will add a perfect decorator touch should to your tropical fish baby bedding crib decorations. Imagine how baby will laugh when he sees that friendly purple octopus dangling over the head of his baby crib!
If you have a nursery glider that could use some replacement cushions, why don't you buy extra tropical fish baby bedding sheets and use them to make fishy slipcovers for your rocker! This is a unique way to make your decorations surrounding your baby crib bedding sets with fish look like a set of custom sewn baby bedding!
A great place to find tropical fish theme room decorations to go with your baby crib bedding sets with fish could be the party supply house. You can find cheap, colorful electric lanterns and lights in the shapes of starfish with some grass hut style party decorations and even a hula skirt to use as tropical style window treatments. Items that you would normally use for a Tiki hut party theme will work perfectly as a beach style background to highlight your tropical fish baby bedding set.
Nursery chandeliers decorated with colorful flip-flops, starfish, seashells or surfboards are available to pull the focus upward and to the center of your baby fish theme room. If budget won't allow a ready-made tropical fish style chandelier, decorate the nursery lighting fixture that you have in place to match your tropical fish baby bedding set. Drape strings of tiny seashells through the arms of the chandelier or stencil a fish on each blade of a ceiling fan. These are all fabulous nursery decorating ideas that are extremely inexpensive and will give you more room in your budget to buy the perfect tropical fish baby bedding!