Best Affordable, Washable Cashmere Baby Blankets
Cashmere baby blankets and cashmere baby clothes have the ability to keep baby warm without chafing sensitive skin.
Certainly, cashmere is more expensive than plain old flannel baby blankets, but don't give up and buy that fleece or cotton receiving blanket before making some comparisons.



Personalized Baby Blankets

Baby Blanket Gift Sets

Swaddling Blankets



You can find a really fine cotton blanket that feels almost like cashmere, but if you are going to spend that much money why not go ahead and get the real article?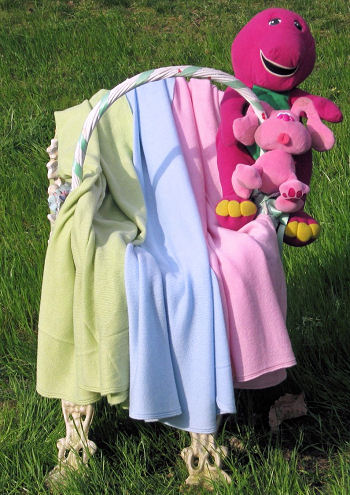 Go Here to See More
It's a fact that many (if not most?) modern moms are all caught up in fashionable designer brands and names.
Imagine this: You are out with baby and friends drift over to admire your sweet infant son or daughter. They may ask to hold baby and then they exclaim that baby is so darling and that his or her blanket is the softest most elegant blanket they've ever felt. They may also ask what it's made of! Alright, now think about it. Wouldn't it be so much more satisfying to say, "Well, thank you, it's cashmere."? A real cashmere piece is just so much more stylish and trendy than a common cotton blanket if you can afford the expensive price.
Cashmere baby blankets make unique shower gifts! For instance, this blanket with an appliqued monkey pattern would be right at home with Curious George and friends or with the other jungle animals in a zoo animal nursery theme. If you can't use a monkey print baby blanket, there are cashmere baby items in stripes, polka dots and solids at PoshTots as well.
There are many sources where you can buy discount cashmere blankets, but I would hesitate to have an online store to do any personalized work on the baby blanket if I was not familiar with the quality of their cashmere products. That way if you get the blanket and you are not happy with it, you can send it right back. On the other hand, there is nothing that says baby luxury quite like personalized cashmere baby blankets with baby's name and birthdate embroidered on the satin binding. Or you could have baby's initials monogrammed in the center.
If you are an accomplished knitter, here's an idea for a lovely baby gift that you made yourself! Pick up one of the popular cashmere baby yarns such as Debbie Bliss Cotton Cashmere blend yarn. If you don't mind a little merino wool in your cashmere baby garments you can use Cashmerino yarn that is so soft! There are also knitters that believe that Alpaca baby yarn and alpaca baby blankets are even more soft and luxurious than cashmere baby blankets! I find that hard to believe! Personally, I would stick with 100% cashmere yarn for my cashmere baby blanket or at the very least a cotton and cashmere blend. Once you knit your cashmere receiving blankets, you may be brave enough to go on and knit matching cashmere baby booties!
Feel free to browse our site to learn how to personalize your cashmere baby blankets, see luxury nursery ideas and get gift ideas for the next baby shower.