DIY Baby Transportation Nursery Theme Ideas and Décor with Crafts and Painting Projects
We have a lots of pictures filled with DIY transportation nursery theme ideas for a baby's room. The photos feature painting and crafts projects that will help you save money on your project regardless of the vehicle you choose to showcase.
When you take into consideration all the many modern ways that we travel from place to place, things can get pretty complicated. Throw in vintage vehicles and prepare to be amazed at the many styles to consider.
We have decorating ideas for collectors of toy trains, planes, race cars, and motorcycles. It's time to pull your collection out of storage and put them on display!
This is one of the broadest
baby nursery themes
that we cover and we have a lot of
nursery pictures
for you to see in our gallery.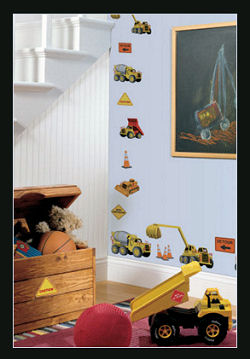 Go here to see more
ideas for decorating the walls of your baby's room with cars, trucks and construction equipment.
CONSTRUCTION NURSERY
A mural painting in a construction themed nursery features hills and valleys connected with a network of roads traveled by big dirt diggers and various types of earth moving equipment. To give your wall painting an authentic look, buy sand colored textural paint and remember that wall stickers will help you to avoid spending a lot of time on details.
Vintage Cars Nursery Theme
CARS NURSERY
There are several directions that a car nursery theme might take including a vintage cars nursery, a race car themed nursery, a
NASCAR baby nursery theme
or even a Disney Cars nursery design.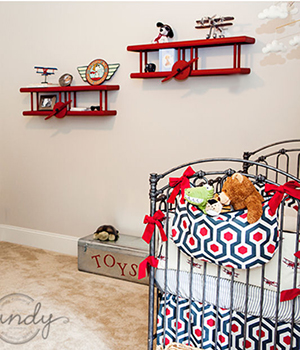 Snoopy and the Red Baron are flying the friendly skies on floating airplane wall shelves in this baby boy's nursery.
Airplanes are the focus of one of the most popular
baby boy nursery themes
. However, with the increasing number of female military and airline pilots there are more plane decorations and crib sets in baby girls' nurseries than ever before.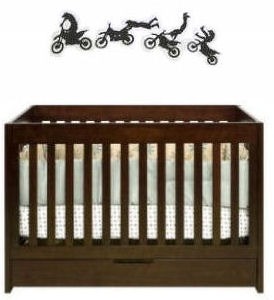 More parents with a passion for travel on two wheels are decorating using motorcycle artwork and logos.
Some parents use a variety of resources to travel and enjoy the wonders of the world with their little ones.
World Travel Transportation Nursery themes
Vintage travel posters on the nursery walls featuring some of the most desirable vacation destinations give this little one's transportation nursery theme a very sophisticated look.

Lionel train collectors or fans of Thomas the Tank Engine Train should miss the chance to display their collectible toys in their baby's nursery
These are just a few suggestions from
Unique Baby Gear Ideas
that should put you on your way to developing your own transportation themed nursery ideas.
SHARE IDEAS and PICTURES OF TRANSPORTATION NURSERY DECOR
Do you have a great set of transportation themed baby bedding or a picture of a nursery that you decorated with cars or trains? Share it!
TRANSPORTATION NURSERY IDEAS
Click below to see contributions from other visitors to this page...


Transportation Nursery Decor

There are many decorations and transportation nursery decor for a baby boy's room that you can make yourself just like the ones that I made. My DIY crafts …
Transportation Nursery Not rated yet
We call our transportation nursery "Baby Nursery On-the-Go". When we started pulling together the nursery for our baby boy, we wanted a theme, but not …