Ideas for a World Travel Nursery Theme Filled with Adventure for Baby
by JB
The world travel nursery theme is by nature filled with endless possibilities, fun and adventures for baby. Decorating a baby room with souvenirs picked up while shopping on tours abroad or to duplicate the decor of a mommy-to-be's favorite Bed and Breakfast or country inn virtually guarantees that the parents as well as visitors will relax when they walk into the door.


This baby girl's nursery's design was inspired by her mother and father's love of the Loire Valley in France. Photos taken of their favorite suite of rooms and the surrounding countryside were the inspiration for the colors, the crib and furnishings of of the room as well as the colorful, striped wall painting technique and the elaborate design of the painted ceiling.
The antique dresser and mirror that were in the mother-to-be's room when she was a little girl are a perfect fit that add sentiment as well as style to the space.
Historic events can inspire
nursery themes
as well as locations.
Will your little one be treated to stories of Grandmother or Grandfather's travels to San Francisco in a VW van with hand-painted psychedelic art on the side during the Summer of Love or their trip to Woodstock to see Jimi Hendrix and so many other famous bands whose names are constantly referenced around the family dinner table?
If so, you might as well ask to borrow a few of their rock music posters to decorate the nursery walls.
The mysterious atmosphere of travel by train and boat was much preferred over other modes of transportation back in the day and can be as much a part of a travel theme as the most memorable vacation.
These parents that decorated this nursery are professional pilots for an airline and obviously enjoy the look of both modern and antique airplanes.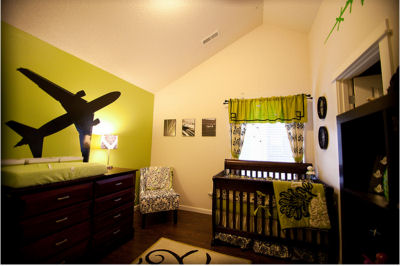 Modern Airplane Nursery Theme
Travel themed decor featuring planes is an excellent gender neutral nursery idea that is as appropriate for a baby girl as it is for a baby boy since in today's world there are just as many
female pilots as there are men at the controls of the plane.
Fond memories of the location as well as the mode of transportation of a world travel baby nursery theme can play an important part in decorating your baby's first room. I hope that you enjoy sharing your travels with your baby and that you will visit
Unique Baby Gear and Nursery Ideas
to share your nursery pictures when you're done.