Transportation Nursery
by Tracy H
(Milwaukee, WI)
We call our transportation nursery "Baby Nursery On-the-Go". When we started pulling together the nursery for our baby boy, we wanted a theme, but not a room that felt "theme-y" and here is how we created our baby boy's nursery decor.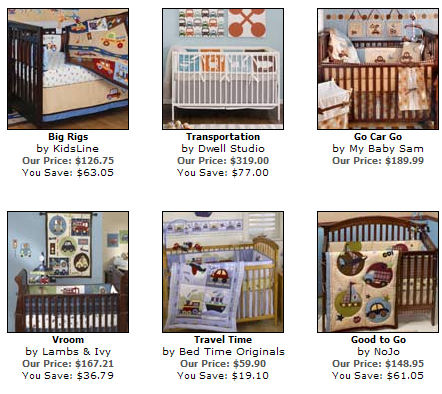 Go Here to See More
We were careful to purchase furniture that would work for him as he grows. The dresser is slightly below normal height and works well as a baby changing table with a color coordinated pad on top. Plus, the space underneath the top gave us a place where we could store boxes of smaller items to keep them close at hand (socks, burp rags, etc.).
I loved the idea of a traditional nursery rocker in our baby nursery design, but was disappointed to find colors and expensive pricetags that were not to my liking. I found my rocker and ottoman (without covers) at Walmart, and covered them myself in green canvas fabric. (Thanks for the help Mom!)
We found a modern crib with clean lines and outfitted it with a green skirt (to match the upholstery of the rocking chair) and
transportation nursery
bedding and crib bumpers (made from curtain fabric and leftover canvas from the chair project.)
We stripped down a baby mobile to the hardware, covered it in brown fabric and green ribbon, then hung small wooden vehicles on it in keeping with the transportation themed nursery design. The variation of the wood colors makes it interesting and the wood is light enough to turn and hang beautifully.
Hanging about the baby's combination changing table dresser is a large wooden airplane surrounded with vinyl cloud decals. Everyone that visits comments on the plane. After we put it up, this really became a focal point for the nursery. The rest of our transportation nursery wall art that we used in our
baby boy nursery
decor consists of bus tickets and tokens that we found, road maps and a bicycle diagram. All of which continue the on-the-go nursery theme with character and style.
The motion lines nursery rug ties the whole room together. It's a neutral shade of gray and we love that the color is infused through the baby's toys and accessories which are all items that we can easily change out as Noah outgrows them.
As a finishing touch, we painted the doors using magnetic and chalkboard paints on the inner panels turning them into magnetic chalkboards for our baby boy, Noah, to use.
From the Webmaster
Tracy, your transportation nursery
baby nursery ideas
sound lovely! I love that you made so much of the decor yourself (with a little help from an obviously talented Grandmother) and brought so many unique decorations into play while staying in keeping with your theme.
For some reason, your nursery pictures didn't upload and that is a requirement for the contest. Could you please use the form on the same page that you used to upload your article to try once again to upload your pics?