Baby Girl Disney Princess Bedding, Crib Sets and Nursery Decor Ideas
Girls Disney Princess bedding collections are a favorite with big girls as well as baby girls. A girl is never too old or too young to be a Disney Princess. Whether you are looking for pretty Disney Princess baby bedding for a baby girl's crib, twin size bedding or full size bedding for an older girl's bedroom, there are comforters featuring your all-time favorite. Keep reading for ideas on how the most popular princess can inspire ideas for your room's decorations!




This original (designed by yours truly) quote includes the names of our favorites!
If you would like a casual nursery light fixture rather than a formal pink crystal nursery chandelier please consider a ceiling fan! If there is a plain white ceiling fan already in the bedroom; paint it pink!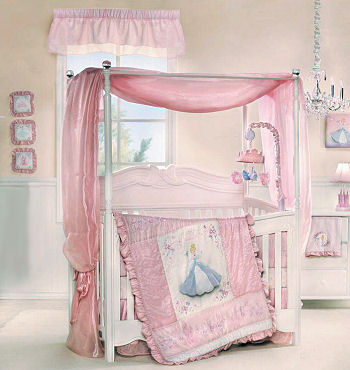 Go Here to See More
Take your cues from your bedding and do a little custom painting technique on the ceiling fan blades to match! If you aren't very confident with decorative nursery painting techniques, stencil some gold princess crowns on the blades. One princess crown to match your Disney Princess comforter will be all that's necessary to dress your baby girl's nursery in royal style.
Choose a few of the other girls Disney Princess bedding and accessory items such as bookends, wall shelves and posters to finish your theme! See which of the decorative items look best with your crib set or comforter and buy accordingly.
If you can't find a complete set of full size bedding or comforter set to fit, consider taking a blanket and pair it with a solid color dust ruffle. This should look amazing in your little lady's bedroom! Don't forget to decorate the walls with lots of Disney Princess wall decorations including posters featuring your favorite princess. Prints with Cinderella, Snow White and Ariel on them are easy to locate. A crown shaped princess mirror in pink or purple will add to your Disney Princess theme as well.
Please visit us again soon to see more nursery decorating tips and Unique Baby Gear Ideas for a baby girl.