Lime Green and Navy Baby Bedding for a Baby Nursery Room
Look out, there is a new shade of green in the nursery! Lime green and navy baby bedding is popping up as a welcome alternative to the gender neutral pastel green that we have seen in baby nursery decor for decades. For those not in the know when it comes to decorating terminology; lime green is practically neon when compared to colors like spring or Kelly green.



Visitors Shopping for Navy Blue and Green Baby Bedding Sets Also Enjoyed these Pages:

Baby Boy Nursery

Baby Girl Nursery

Neutral Baby Nursery


NAVY AND GREEN BABY BEDDING FABRICS
Floral print crib sets may be out of the question, but pictures of nursery designs where the lime green and navy baby bedding is made of plaid print fabrics keep going through my mind. For a baby girls nursery design, the color combination might put an interesting, modern twist on traditional lime green and blue toile fabric as well as a funky, retro paisley crib set. These colors would be especially suitable for a boys paisley crib set or blue and green striped fabrics might give a baby boy nursery a dignified and collegiate look.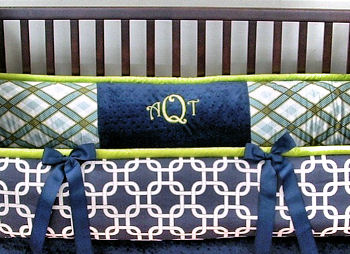 Go Here to See More
Many may consider these colors to be too wild for use in a room where a calm and peaceful atmosphere is important. To these negative thinkers who seem to resist every modern trend I would say that that is why lime green and navy baby bedding is such a great idea for a baby's nursery. The dark and calming navy blue anchors the bright green and keeps it from being stimulating and therefore unsuitable for use in a baby's bedroom.
LIME GREEN AND NAVY BABY BEDDING OPTIONS
Decorating ideas for any shade of green in the baby's room will be amplified when the tone is bumped into the lime green color range. Classic green frogs and turtles will be ever so bold and eye catching when the images and graphics make use of lime accents on a navy blue background.



SOLID GREEN AND NAVY
Another excellent decorating option for these colors might be to forego the use of prints entirely and make the best use of textured fabrics. Soft chenille and matelasse' fabrics take the place of patterns and do a super job of providing lots of visual interest. Custom bedding sets constructed of these fabrics are especially elegant when the baby's initials are monogrammed in strategic locations.
It's very fashionable to have baby's monogram stitched as medallions on the bumper, the corner of a crib blanket or in the center of the baby's pillow. Dark blue stitching on a background of bright green that is in reverse of the lime green and navy baby bedding will really stand out and be admired by guests to your baby's bedroom.
Return to find more navy blue and green baby nursery ideas and to see more cute baby room colors.