Yellow and Gray Baby Montessori Nursery Design
by Jan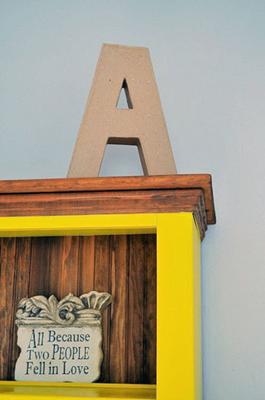 Asher's initial displayed on the bright yellow bookshelf made made with love by my step father in law, Gary
The name of the bright yellow paint color used in Asher's yellow and gray baby Montessori nursery design is just perfect, "Confident Yellow".



You see, the main concept of Montessori is to promote a child's joy of learning. To have a joy of learning creates a well adjusted person who has a purpose in life. Children, who experience this joy, are happier, more fulfilled and (wait for it) confident!



Keely, Asher's mom, has agreed to share how she went about designing and decorating her baby's Montessori style nursery.
Go here to see more
The basics of a Montessori nursery is to prepare a completely baby-proof room so that as the baby grows and begins to explore, he can do so with a more freedom within limits.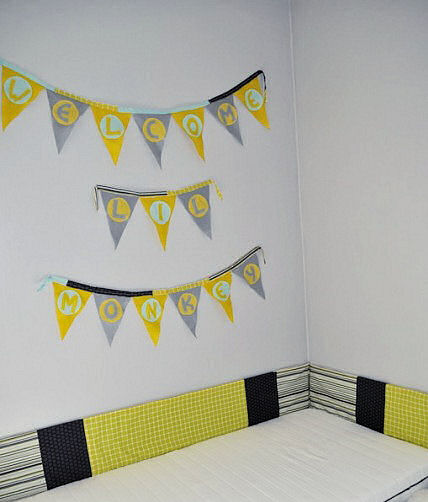 This style of parenting is said to create a more independent and confident child.
What are some of the steps that you took to create this area?
Rather than a traditional baby crib, we placed a twin-size mattress that was only two to three inches thick directly onto the floor surrounded by padding for protection so that if the baby rolls off, he won't be injured. For anyone who would like to learn more about why we chose a floor bed rather than a crib,
here is a link to a page that might explain
.
We found the the Sultan Fonnes mattress at IKEA and bought it with a gift certificate that was given to us by my mother.
Will the baby start out sleeping on the floor bed immediately?
He will be in the bassinet for the first few months and then when he is ready to move into his room we have the baby gate in the doorway so that he will be free to explore the space at will.
Is the monogrammed crib quilt on the baby's bassinet a family piece?
Yes,that was my father's receiving blanket that was made by my great-grandmother. I have plans to display it in the nursery later on but for now, this is where I have it.
My father's initials are embroidered on each corner of the receiving blanket. We are so fortunate to have this precious piece and will one day give to him to share with his family.
Gray and yellow has become such a popular nursery color scheme and parents are always looking for paint color recommendations. The colors in your pictures complement each other very well. I've already mentioned the name of the bright yellow color but could you share the name of the gray color you used on the nursery walls?
The name of the gray color that we used to paint the walls is called "Alpaca Gray". Both it and the "Confident Yellow" paint are Sherwin Williams products.
In the beginning, even though I wanted a nursery with bright colors, the yellow was a bit overwhelming but after we introduced more color in the room, it's not only grown on me; it feels like it works.
I'm still trying to make the decision as to whether it would be worth the energy to paint the wood trim and beaded-board backing in white to match the trim. After arranging everything on the shelf, having the wood seems to work well. What do you think?
The gray and yellow wall banner is adorable! Did you make it yourself?
Our friend, Tiffany, made the banner for my baby shower. The colors mirror perfect the bright colors of the bookshelf, the gray of the walls and the white trim.
Where did you find the cute bumper that pads the wall by your baby's floor bed?
I made a wall bumper to surround the floor bed out of table runners that my friend, Julie, made as part of my baby shower decorations.
I attached them to the wall with iron-on velcro and heavy-duty wall mounting tape and so far they seem to be holding up very well.
The bottom shelf of this bookshelf has a special space that Asher can explore when he is ready. When that time comes, I will remove some of the items currently on display and put a limited number of his books and toys in rotation so that there is always something to interest him but not so much that the area is cluttered or overstimulating.
Right now, I'm just having fun making it cute!
I hope that everyone has enjoyed taking a tour of Asher's Montessori nursery design as much as I have and that you will visit Keely's blog
Asleep to Dream
to read more about what it takes to design a baby Montessori nursery AND that you will leave a comment to congratulate Keely on the birth of her child below this article and thanks for visiting
Unique Baby Gear Ideas
!