A Modern Baby Girl's Nursery Inspired by a Tradition of Flamingos
by JB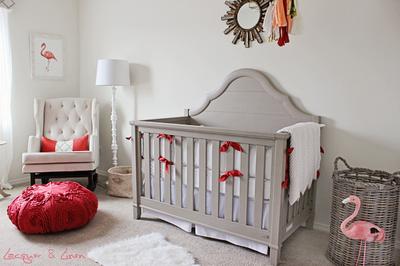 Modern, neutral color scheme with pops of coral in a baby girl's nursery inspired by festive pink flamingos
We have a modern nursery for a baby girl has been decorated in a pleasing neutral color scheme with pops of coral inspired by pink lawn flamingos by Sarah C. Sarah is an interior designer and blogger that shares her DIY and crafts ideas with fans of her blog. Today she is giving us a tour of her baby's nursery that is filled with many ideas that I'm sure our fans will want to incorporate into their own DIY projects.

Why flamingos? Sarah and her family use lawn flamingos as part of the decorations when celebrating important events in their lives.





Should it come as a surprise that these beautiful, pink birds made an appearance in her daughter's room?
Go Here to See More
For many years Sarah's family events including weddings, birthdays and graduations have been heralded by a flock (a stand or a flamboyance?) of lawn flamingos.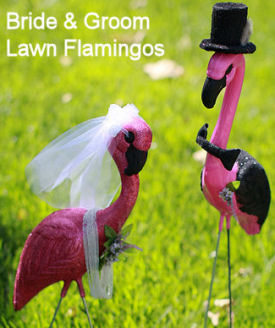 Mr. and Mrs. Flamingo
As Baby C is the first grandchild in Sarah's family, tradition dictates that she be welcomed by them.
Flamingos aside; the room is not overwhelmed with pink baby bedding, curtains or wall paint. As you can see from the nursery pictures, the color scheme has a neutral palette with shades of bright coral introduced as an accent against a soft background of dove gray, taupe and cream.
The flamingo theme adds an element of fun while the fabrics and lighting successfully mingle modern patterns with art deco.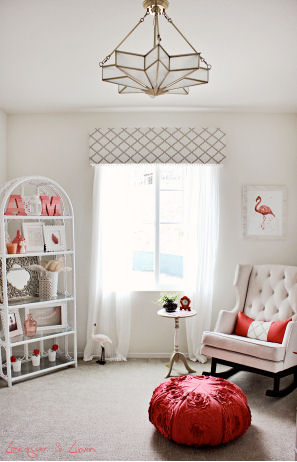 The bright coral of the floral pouf and the lumbar pillow made from fabric leftover from the DIY upholstered cornice (with the help of Sarah's talented mother) add color and comfort features to the rocker.
The rocking chair, one of Sarah's favorite items in the nursery, is the Empire Rocker from Nursery Works. By the way, she has some excellent tips for buying this chair at a discount price as well as more of her
baby girl's nursery pictures
on her blog,

Lacquer and Linen
, that you will not want to miss!
Sarah's skill of finding hidden treasures in antique stores and estate sales came in handy while decorating. She found this bamboo bookcase for less than $100. With a coat of spray paint and a display of items collected from outings with Mr. C, this rare find became one of the room's most interesting and unique focal points.
The letters on the bookcase were picked up at TJ Maxx for less than $2 and then painted in gradient shades of coral ombre style.
The painting technique was needed as much to cover defects in the original paint as to bring color of the letters in line with the rest of the nursery's decor.
The gorgeous print between the "A" and the "M" is from Kelli Murray.
Baby C's nursery may be inspired by a tradition of flamingos but the design is fresh, unique and all Sarah's. Her ability to embrace the best of many different styles and alter flea market finds ever so slightly to make them truly one-of-a-kind is what makes her service invaluable when moms-to-be need a very special person to offer nursery ideas and decorating advice.
To see more photos of her nursery reveal in addition to those she has graciously shared with
Unique Baby Gear Ideas
and tutorials for many DIY projects, please visit her blog, Lacquer and Linen.