Best Ladybug Stencils for the Baby Nursery or Kids' Bedroom Walls
I just love ladybug stencils and have found so many decorating projects where they can be used and make such a big difference. There are occasions where the little red and black polka dot bugs add so much character to a decorative nursery wall painting or an otherwise boring piece of furniture. They are so cute and sweet that it's just impossible to resist the urge to paint a few of the little critters sunning on a rock or lounging on a dewy green leaf whenever the opportunity presents itself.



Visitors Who Like This Page Also Enjoyed these Pages:

Ladybug Wall Decals

Ladybug Wall Art

Ladybug Baby Bedding



Wall stencils are not ever going to put mural artists out of business, but the truth is that they are getting more popular. This is probably because they are one of the best ways to get painted designs where you want them for an extremely cheap price. Even a child can use most ladybug stencils with professional results!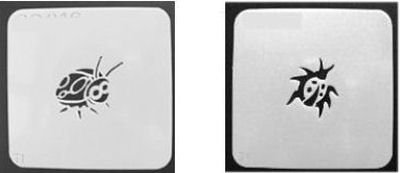 SEE MORE HERE
There's no denying that ladybugs are easy for trained artists to paint.But, if you don't have the time to take painting classes and have your heart set on a ladybug pattern being displayed somewhere in your decorating project the easy thing to do is buy some reusable wall stencils(or download some pictures of
free printable ladybug stencils
) with ladybugs on the sheet and pick out the best paint color scheme to use.
More Ladybug Items
Ladybug Baby Shower
Ladybug Gifts
Ladybug Baby Jewelry
Ladybug Baby Nursery
Ladybug Nursery Decor
Ladybug Rugs
Ladybug Wall Letters
Ladybug Baby Shower Invitations
Find a design for free printable stencils or buy one of the inexpensive stencil patterns and you're ready to populate the baby's ladybug nursery theme or even walls, furniture and floors in an older kids' room with arrangements of little red and black cuties!
When there is a room theme that focuses on foliage, outdoor life or insects there will be an opportunity to reuse your stencils. I can also picture a ladybug painted on a carousel horse or as a surprise element on a circus elephant's trunk. Plus, you can find other uses for your stencils other than to paint decorations on the baby's nursery walls. Use them to decorate greeting cards or baby shower invitations for the ladybug fan in your life!
Here are some unique baby nursery decorating tips and ideas to help you get your money's worth out of those ladybug stencils:
For a mom who has a red and black color scheme or one of the many ladybug baby nursery themes, stencil some coordinating designs using fabric paint to personalize a plain black diaper bag, the baby's crib canopy or somewhere on the baby stroller. What a cool personalized shower gift for the hostesses to present at the ladybug baby shower.
What colors are in the ladybug crib bedding set? Your ladybug stencils don't come with color restrictions. You can use any color scheme that will match the baby's bedding fabrics
Get ladybug stencils with ladybugs in several sizes and shapes so that you can march a parade of ladybugs across the nursery walls. Scatter some dragonflies, black and yellow bumblebees, birds and butterfly designs alongside your ladybugs if you like. Stenciling instructions takes time, but it's so much cheaper than hanging wallpaper in the nursery!
Pick up some drawer pulls shaped like ladybugs and then stencil a few ladybugs on the baby's dresser and other ladybug themed furniture to match
Return to find more ladybug baby nursery ideas with tips on how to make your own ladybug wall decor.