Lady Bug Baby Nursery - Cute as a Bug!
by Amber
(Riverside, CA, USA)
We thought that a red and black lady bug baby nursery design would be unique but we quickly learned that as long as we were willing to accept the color choices the theme made available to us that decorating the room would be smooth sailing all the way!


My husband and I wanted to use a different color than the usual red and black and we certainly wanted a nursery that is not pink; I was raised in a pink bedroom and I got so very tired of it.


When I suggested a ladybug theme using a color scheme of red, black and white he loved the idea.




My decorating project suffered a temporary setback when I learned that the crib set I wanted retailed for as much as $600 in baby boutiques which was too expensive. But I took a chance and placed a bid on it when I found it for sale on Ebay and was tickled to win it for less than a hundred dollars! The exact price we paid was $96.00!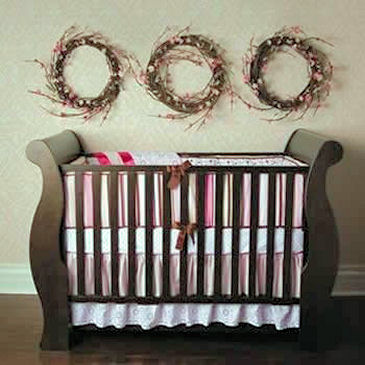 Go here to see more
Right away I started shopping for the best
lady bug baby nursery
bedding set and fell in love with one of JoJo's polka dot 9 piece crib sets on eBay.
The set was perfect for the lady bug baby nursery design that we had planned and what a bargain it was! The bedding includes a baby comforter, a crib bumper, a fitted crib sheet, a crib skirt (dust ruffle), a pair of window valances, a diaper stacker, a toy bag and even a decorative pillow to decorate the nursery glider or the baby bed when our baby girl is not sleeping. Once it arrived, I realized that it was even cuter in person than the pictures on the auction and I'm thrilled about the deal I got. The only other decoration we needed for the baby's bed was the matching ladybug crib mobile. We hung the crib quilt and toy bag above the changing table as wall decorations.
My husband has a very artistic personality, which definitely surfaced when he got the idea to accent the
ladybug baby nursery theme
using an abstract bubble painting technique. He traced four circles on the wall in different sizes using paint cans, a bucket, and a soda can as templates. Next, he painted the inside of the circles with primer, and then painted two coats of Heirloom Red paint. To put the finishing touches on our lady bug baby nursery, he installed wide, traditional crown molding that he painted Heirloom Red with a narrow strip of black trim molding underneath.
My sister, my mother-in-law and I painted the red and white polka dot wall letters that spell out our baby girl's name, "EMILY". We decorated each one of the wooden letters with gingham ribbon and wooden ladybugs and then we hung them above the baby's bed.
My husband attached a hook to the side of Emily's crib to hold the diaper stacker. To make the most of our small closet space, my husband installed a second clothing bar underneath the existing one. Then we further organized the nursery closet with two rows of black storage bins and plastic labeled tabs that separate the various clothing sizes.
Our lady bug baby nursery furniture consists of a black crib, a changing table and a comfortable glider chair with ottoman to complement our polka dot ladybug decor. Then, my talented husband built a black armoire to hold additional baby items.
FROM THE WEBMASTER
Congratulations! You took a basic lady bug baby nursery design and made it unique and original by adding your own personalized touches and homemade decorations. Thanks for sharing your decorating ideas and tips including the suggestions on where we can get a bargain on bedding.
Unique Baby Gear Ideas
' visitors are always looking for cute rooms that will inspire them to get to work!