How to Decorate a Baby Nursery Room for a Boy or Girl in 10 Easy Steps
Very few first-time moms know how to decorate a baby nursery in a confident and efficient manner. The reality is that no matter how small the room; this is not a small decorating project.

Refer to the 10 easy steps in the list below to avoid the waste of time, money and disappointment of falling short of obtaining the design that has been the dream of a lifetime.
The list below includes helpful planning tips will guide you in choosing and achieving a nursery that is safe, serviceable and attractive.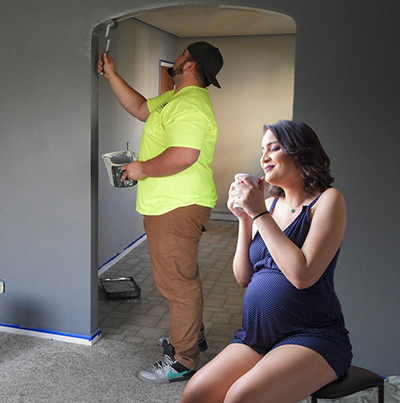 No 1.  Nursery Decorating Style

Modern moms will find that
Unique Baby Gear Ideas Pinterest
nursery boards are a helpful tool in the early stages of learning how to decorate a baby nursery. Simply search for and pin any picture of a baby girl nursery or picture of a baby boy nursery in
baby nursery themes
, colors or styles that appeal. A bonus of using a decorating app such as this is the elimination of piles of folders or notebooks filled with fabric swatches and photos.
This is the best place to start whether the goal at hand is to learn
how to decorate a newborn baby boy room
or one for a girl.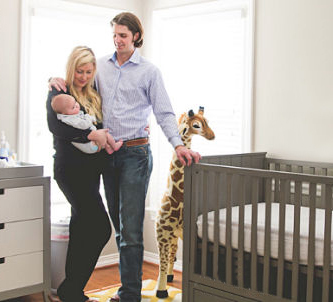 Suggestion:  Create a board filled with photos of beautifully decorate nurseries for consideration then create individual boards of nursery wall decorating ideas, crib sets, etc. that are associated with each.

How Much Does a Nursery Cost from Start to Finish
No. 2  How to Narrow the Choices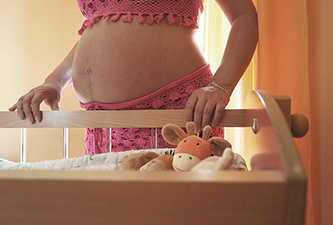 The colorful examples are so exciting in the early days of the decorating process.  As time passes, your preference for a particular decorating style, color scheme or nursery theme will become evident and a step-by-step guide demonstrating how to decorate a baby nursery according to your own unique taste will begin to emerge.  These tips are gender neutral. 

No. 3  Color Scheme Selection

Refer to the collection of inspiration board photos that have been compiled to spot patterns. Are there numerous photos of pink nurseries? Have a number of gender neutral nursery designs caught your eye? Drilling down at this stage will save time in color scheme selections that can be successfully adapted for use in many themes.
Trending: At the time of this article there are many searches for a
baby girl nursery
decorated in pink and grey and the bright, cheerful yellow and grey color combination is on trend for a
baby boy nursery
. Please browse our gallery of photos to get ideas for how to decorate a nursery before leaving to use other recommended tools and websites.
No. 4  Buy the Nursery Furniture First

There are a couple of practical reasons to buy the crib before anything else.
A bed for baby is a necessity and it will take up quite a bit of floor space Cribs and crib mattresses can be expensive and take a big bite out of a decorating budget From the crib purchase forward, furniture pieces are optional depending on the size of the room and your personal taste. For instance, not every parent feels that a changing table or dedicated nursery rocking chair are necessities while others would not want to imagine life without them.
Buying used nursery furniture will avoid that dated, "match-y" look while giving your project an original personality and style. Dressers, changing tables, chairs are all excellent secondhand choices but experts advise against buying a used crib due to safety concerns.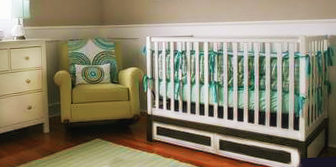 Suggestion:  Shop secondhand consignment shops. Painted nursery dressers are trending and can be picked up for a cheap price.

How to Decorate a Transitional Nursery for Baby with a Homemade Crib
No. 5  How to Decorate a Baby Nursery Using Focal Points

Composition is every bit as important in nursery design as it is in photography. Choosing the stand-out feature or focal point of a space draws the eye and maintains balance. Identify the most attractive feature of the room and take steps to make it outstanding. Knowing how to decorate a baby nursery by accentuating the positive is a step in the right direction.
Example No. 1:
In a small nursery, the main focus will naturally be on the crib; make it a stunner. Draw the eye upwards toward the ceiling with a crib canopy or the addition of a luxurious crib skirt. These items take the bed from being a necessity to a decorative focal point without taking up so much as an inch of additional floor space.
Example No. 2: Should the nursery have a large window with stunning moldings, stylish window treatments will enhance its attractive features.
Working with the room's most attractive features that are already in place will save money and produce excellent results.
Nursery wall murals are another excellent focal point that will not eat up valuable floor space and they are easy to DIY.
No 6.  Inspiration Pieces

The crib set is most often the inspiration piece for any nursery decorating project. The quilt can be used to determine every decorative aspect from baby nursery themes to color schemes.
Suggestion: Never choose the nursery wall paint color or wallpaper before the baby bedding is in-house. Colors seen in catalogs or on a screen can be deceiving. Always take a fabric swatch or a piece of the bedding to the paint store for a perfect match. The same goes for nursery wallpaper. Parents will find that it is easier to match wallpaper to the crib set.
No. 7  Painting the Nursery

Time to put your ideas to work. Open the windows (ventilation is crucial), empty and clean the nursery of dust, cover the flooring and pop open that (VOC free) paint can or wallpaper at will. Allow plenty of time for the paint (or wallpaper paste) to dry and the space to air out before baby is expected.
No. 8  How to Arrange the Nursery's Decorations

Focal points once again come into play when choosing decorations for the baby's room. Professionals that know how to decorate a nursery without a cluttered look are in demand. They are well aware that the creation of specific groups of items rather than filling every available spot on the wall or dresser with swag is the best practice. Empty spaces in between arrangements allow the eye to rest and allow the design to flow.
Suggestion: A nursery area rug can add texture, accent colors and reflect the chosen theme as well as providing a soft space for a child to play.
No.9  Creative Ideas for Nursery Storage

Even a room without a closet can be made orderly with the use of baskets, shelves and dresser drawers updated with the latest in nursery organizers. Knowing how to decorate a baby nursery room using functional pieces can make even a small nursery seem spacious and airy as well as knowing how to make the best use of space via
nursery closet organizers
and other creative
nursery storage ideas
such as those shared by parents on Unique Baby Gear Ideas.
No. 10  Essential  Safety Features for a Baby Nursery

Features of the nursery decorating project must be chosen with baby's safety in mind. A crib that is compliant with the latest safety features is essential. Strapping the dresser safely to the wall is essential. A well-stocked basket of items within reach of the changing area is helpful. Once the nursery has been furnished and decorated the time has come to make it safe and tie up loose ends has arrived.
Unique Baby Gear Ideas
' visitors are invited to add their recommendations to our list of How to decorate a baby nursery in 10 Easy Steps using the comment form below.