Horse Baby Bedding and Nursery Decorating Ideas
For horse lovers, horse baby bedding is a natural way to kick start lots of cool nursery decorating ideas that tie into their favorite hobby. There are kinds of fabrics with pictures of horses and all of their friends in the barnyard that can be used to make your own custom set of horse bedding or patchwork quilts for your baby's crib.




If you don't know your way around a sewing machine and couldn't sew a straight seam if you had to, don't despair as there are many ready made western pony baby bedding sets and crib comforters with decorative accessories that will carry your horse theme throughout the baby's bedroom.
What's not to love about a horse crib set covered in western ponies, cows and puppies? A blue denim crib sheet fits right in line with the crib quilt that has been appliqued with horses, farm animals, a barn and even a rooster to crow good morning. The horse crib mobile will be just as entertaining to baby as the matching lamp and picture frame that coordinate beautifully with the black and white polka dot accent fabrics. The striped crib skirt ties all of the cows, horses and puppy dogs together in one neat package.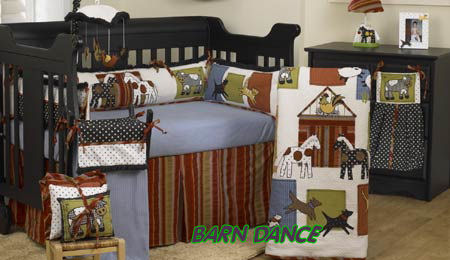 SEE MORE HERE
COWGIRL CRIB BEDDING SETS
If you are decorating a baby girl's nursery in a western pony or baby horse theme for the project, you are in luck! We have recently begun to see horse horse baby bedding constructed of more feminine fabrics. The horses look so cute on fabrics in pink, lavender and other girly colors.
The question is how exclusive do you want your horse baby bedding to be? Here are your options in modern horse crib sets:
Farm theme cribsets that have an agricultural theme will have a few horses scattered in the print but they might also have some chickens, cows and other barnyard animals thrown in with the horses and some riders like to enjoy their horses without the other critters crowding them.

Cowboy theme baby crib bedding for a cowboy nursery theme generally have a few western ponies featured somewhere in the decorations along with cactus, cowboy boots and hats, saddles, rope or other wild western designs.
A feminine style of crib set for a frilly baby girl's horse themed bedroom might be carousel horse baby bedding or perhaps bedding with a unicorn theme. This style of bedding is very dainty and would look lovely in a nursery decorated with coordinating floral pink, purple and lavender print fabrics.
Rocking horses are an classic choice for a nursery with an old fashioned vintage or antique style of decor. If you have a collection of vintage toys, a crib bedding set in a rocking horse theme would fall right in line.
If you are into riding horses and not a farmer or a cowboy, the horse baby bedding that you need should focus on horses and horses alone. If you can't locate a set of bedding with pictures of horses that tickles your fancy you can use fabric covered in horseshoes, spurs (not that you'd ever actually use them), and lariats made of rope or other horse theme designs.
You don't even have to have large horse designs at all, dainty fabric prints have a way of blending into the room's decor without making a big footprint which might be the best horse baby bedding for you.
You can find horse baby bedding that is relaxed and casual as well as collections in a more formal English style. The elegant sets might have an equestrian or foxhunting theme. You might find one with a color scheme that highlights the shade of red or crimson that you see in the riders' red jackets known as "pinks" as often seen in vintage foxhunting prints.
If you need more nursery decorating ideas for your baby's room or gear return to find more Western Horse and Cowboy Theme Baby Nursery Ideas.