Homemade Wood Baby Gate Ideas, Designs and Free Woodworking Plans
A homemade wood baby gate may be the best way to get a good fit when an extra wide baby gate is needed and it "might" save you some money.  When determining whether it would be best to hire a woodworking professional or to DIY the project several issues come into play.
Some of the free plans that are available online tout using reclaimed salvage wood or using wooden pallets to get free materials and that's great because I am all scoring free stuff. But, (and this is a significant "but")while free wood is a wonderful thing saying that you can build a gate for $10 assumes that the builder already has a shop and woodworking tools on hand.
Beginners should know that even the basic woodworking tools necessary to build even something as easy as a simple gate with straight cuts can be expensive and take a big bite out of the potential savings of a do it yourself project.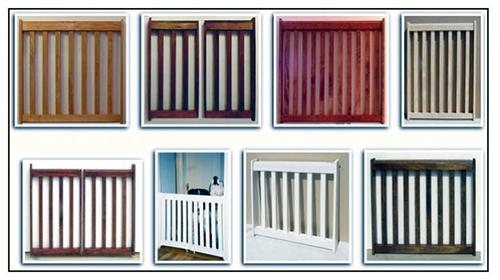 Here is a free book that will take you through the steps from start to finish
beginning with tips for choosing wood, directions on how to measure your opening and hardware.
Those with a shop fully equipped with saws, hammers, drills, etc. can skip this section and go straight to the free woodworking plans below.
Here is a short list of recommended power tools for this project. Power tools will get the job done quicker but they are also more expensive so we have a more time consuming, budget friendly alternative to buying a router and table saw listed below.
 Miter saw (no alternatives)

 Screwdriver (Power or old-school)
 Table Saw (See alternative listed below)
 Sanding Tools (Power or old-school)
 Router (See alternative recommendation below)
 Nail Gun (Or old-fashioned hammer)

Alternatives to buying a router and table saw would be to buy a pack of twenty (or so) 1/4" dowels and a cheap doweling kit (approx. $5), and use them to attach the posts and frame pieces.
The process will be time consuming but less expensive than a table saw and router. However, if you have plans to make woodworking a hobby go ahead and buy the power tools (or add them to your Christmas gift list?) as they will pay for themselves over the long haul.
Tools Needed for Installation
Stud Finder
Cordless drill
Level
Screws
Hinges

Tips
Save money by choosing knotty pine rather than select pine lumber
Install installing automatic door closers.  Piston closers eliminate a lot of noise.
Allow yourself plenty of time to relax and enjoy building the gates.

Now, the moment you have been waiting for; the roundup of free plans that will put you on your way to building a homemade wood baby gate, or two, or three if it makes you happy!
This
Mission Style wooden baby gate plan made the list because The Fat Hydrangea went to great lengths to include lots of details in the instructions AND was honest about how the project was a. more difficult and challenging than she had anticipated b. that there are a lot of steps and c. that it took a lot of patience. They got extra points reminding me to pour myself a glass of wine before reading the instructions. "Cheers!" to Sara and her husband, Evan!
The next set of free homemade wood baby gate woodworking plans
would be super for a beginner to woodworking. Nothing but straight cuts here, people! The step-by-step instructions are nicely detailed with lots of pictures that take us from beginning to end including lists of necessary tools and materials. If you are looking for a set of easy plans and all you need is a simple gate; look no further!
This is the one that you want
if you are looking for the ever-popular rustic barn door homemade wood baby gate. These plans are third on our list not because they are lacking in any way but because they are suitable for more advanced woodworkers. FWIW, he has excellent construction and finishing tips with lots of pictures but it is clear that the author assumed we knew the basics which may or may not be the case.
Please visit the feature page here on
Unique Baby Gear Ideas
and upload pictures of your homemade wooden baby gates with a resource for the plans that you used and any tips that you have for beginners.