Wood Baby Gate Styles for the Nursery and Other Areas of Your Home

On this page we will share wood baby gate styles and finishes for the nursery and other areas of the home.  These gates are excellent safety features for stairs or virtually any area where babies' and pets' safety could be compromised.

At least two baby gates is optimal in a home with a staircase since both the top and bottom of the stairs present a danger to a crawling infant or a toddler just learning to walk.
And since a stairway with a nicely finished wooden banister is often a treasured architectural feature, an average, run-of-the-mill, mass produced safety gate with no esthetic value is not the best choice to enhance the home's decor.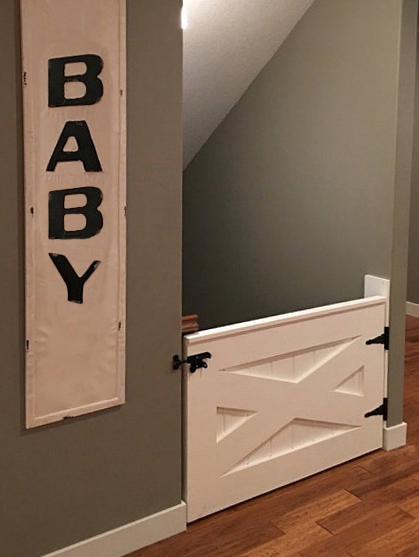 RusticLuxeBoutique
makes beautiful wood baby gates using the best tongue and groove lumber. This one has been painted to match the wooden trim but they offer a variety of custom finishes.
This gate features a versatile style that would be lovely in a rustic nursery for a baby boy or girl. Do you need an extra wide baby gate? No problem! The beauty of having a woodworking professional at your disposal is that there is a better chance to get a perfect fit even when odd opening sizes come into play.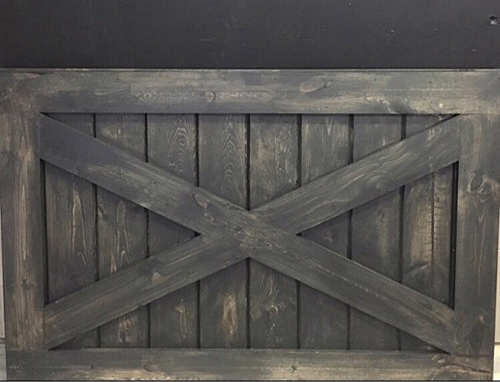 An extra wide (up to a point, of course) baby gate can be managed but please be aware that these lovely doors are solid wood and therefore fairly heavy. Take care to make your measurements in such a way that the hinges can be drilled into studs for the best support.
Tip: Locate the center of the stud before screwing the anchor board to the wall. Attach the hinges to the gate and use a level before screwing the hinges into the anchor board and the wall stud to be sure everything is straight.
Also, plan to have a helper on board for installation since installing a wood baby gate can be a challenge for one person.
Whitewashed Elegance
These whitewashed wood saloon door baby gates were featured in a post on Laurie March's blog and on HGTV and now
Unique Baby Gear Ideas
is chiming in and giving them a big "thumbs up"! They are the perfect choice for a baby girl's nursery or any room with a black and white, monochromatic color scheme.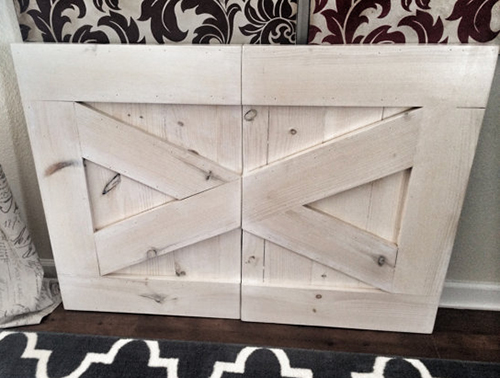 Rustic Charm
Matching rustic, reclaimed wood wall decor and sliding doors complete the look.
I hope that our wood baby gate roundup will help you to make a decision as to the style that will best suit and complement your home and nursery's decor. If you buy a gate from Rustic Luxe Boutique, please visit our feature page and upload pictures of your gate and baby's room after your project is completed.