Farm Baby Bedding and Nursery Decorating Ideas
Farm baby bedding may be the exception to the saying that location is everything. Urban babies as well as those whose nurseries are situated smack dab in the country love stuff covered in baby farm animals. We are all familiar with classic nurseries that have been decorated with pictures of fluffy, white baby lambs that are one by one seen jumping over a rail fence or frolicking in a pasture filled with butterflies and flowers.




What Kind of Farm Baby Bedding Set Should I Buy?
Black and white cow print farm baby bedding is an excellent choice for a unisex farm theme nursery. The monochromatic color scheme is a favorite with parents who believe that high contrast is beneficial to a baby whose vision is not fully developed.
Some appreciate that the bedding sets are made from a special farm theme fabric with a print of chickens, pigs, ducks or cows going about their everyday business in the barnyard not because of educational reasons or its ability to work with a
farm nursery theme
but because of their love of baby animals.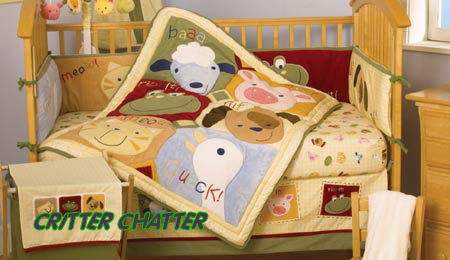 SEE MORE HERE
Baby lambs are still a big hit, but modern farm nursery themes have now expanded to cover not only sheep but farming equipment and big, red barns. The number of species of animals featured in the nursery decorations have exploded as well. Today, any one nursery might have a virtual petting zoo of livestock and horses to keep baby company for his or her first years. By the time these agriculturally savvy newborns get to the toddler stage, the names of their nursery decorations as well as the sounds that they make should be second nature.

Farm Theme Nursery Crib Bedding for Baby Girls
Excellent farm crib bedding sets for a baby girl might be a gingham baby bedding set in yellow, red, blue or even green. With no print or animals featured in the fabric, this is an excellent opportunity for the rest of the nursery to be decorated with whatever animals or farming elements that may be desired.
The latest trend in farm baby bedding themes for girls is pink John Deere tractor baby bedding. Who ever would have imagined in their wildest dreams that equal job opportunities for girls would include driving a tractor much less that they would want their bedrooms decorated in this style of decor?
If you can imagine your little lady barrel racing and riding the range sometime in the future, you might want to consider a set of horse bedding with a coordinating nursery theme or perhaps a contemporary baby cowgirl style of crib bedding and nursery decor. You could take your pick of the best designs featured in each and combine them to reflect both farming and cattle ranch themes.
Farm Theme Crib Bedding for Baby Boys
Not to be confused with western cowboy baby nursery bedding and themes, a farming nursery theme for boys may have plenty of horses and cows on hand. But the emphasis would be on milking the cows and plowing with the horses rather than riding the range, the Wild West and roping.
This is where denim farm baby bedding sets come in very handy. Blue jeans and overalls are classic attire for farmers everywhere, so it stands to reason that blue denim fabric would be super to use in your farm baby bedding for the crib. The crib skirt could have a paisley bandana print to liven things up or any farm animal print fabric you like would be just fine.
Then there is the classic, green John Deere baby bedding and nursery theme that has caught fire in recent years. You don't even have to own a tractor to lay claim to this popular logo. If you love green; this farm theme nursery design may be right for you.
Popular Baby Farm Animals
Fans of one particular farm animal or another, take heart! There are no rules that say you have to highlight any particular animals equally in your farm baby bedding sets. Why should a cattle farmer want baby pigs in their baby nursery themes? Here are some animal nursery themes that are cute as can be with decorative items available in the way of fabrics and decorations so that designing and decorating a farm theme nursery with them as the star will be easy and enjoyable.
COW NURSERY THEME
BABY PIG THEME
BABY LAMB THEME NURSERY
BABY CHICKS NURSERY
Return to Unique Baby Gear Ideas find more farm nursery inspiration including tips on how to decorate and design a nursery in a farming theme for your baby.