Cute Gender Neutral Baby Crib Bedding with Yellow Ducks for the Nursery
We have recommendations for baby crib bedding with yellow ducks and nursery decorating ideas to complement them as well as some wall decor craft projects to show you. Baby ducklings are a classic theme in the modern gender neutral nursery and many parents enjoy adding vintage touches of baby decor from days gone by into the design for sentimental reasons. Duck baby bedding has been considered stylish and fashionable for as long as mothers have been decorating rooms for babies and on this page you will see that there are many reasons for this.


The popularity of yellow duck nursery decorations is most likely due to the fact that this is a
gender neutral nursery theme
.
For moms and dads that aren't certain whether their nursery will be occupied by a baby boy or baby girl, the idea of a neutral set of baby crib bedding with yellow ducks is very attractive. Decorating the nursery with a set of duck baby bedding as inspiration is sure to make the room bright and welcoming regardless of the sex of the newborn who has yet to make his or her gender known.
Recently, a mom asked me whether a ducky baby nursery had to have a vintage look. The rest of the home was decorated in a contemporary style and although she liked the idea of a neutral, yellow duck nursery she was afraid that such an abrubt about face would seem odd considering the decor in other areas of the home. To answer her question, I showed her an example of a
modern yellow duck baby nursery
and she was tickled pink to learn that all ducky nursery decorations and crib sets aren't old-fashioned.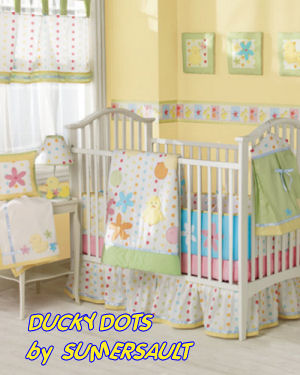 Go here to see many
more selections of baby duck crib sets in various color schemes and styles.
Artwork featuring a sweet family of ducks hung on the wall over baby's changing area.
Here are some of my favorite nursery decorating ideas that you can use to decorate nursery along with your baby crib bedding with yellow ducks!
For a gender neutral nursery theme, get a set of duck baby bedding in vintage yellow toile
For a baby boy nursery, coordinate your yellow duck print baby bedding with fabrics in a sky blue stripe, polka dots with a baby blue background or a blue plaid with just the right mix of shades of blue! The clever mix of patterns will keep everything in the room from screaming duck duck goose!
Consider a farm animals baby bedding set of duck theme baby bedding with yellow ducks and lots of other farm animals to keep them company. The occasional duck can be used as an accent motif. You can showcase yellow ducks and geese in other areas of the baby rooms if you like
For a baby girl nursery with ducks, pull out some of the baby girl pinks or purples in your duck fabric. Nobody says that you have to have to decorate in yellow and white just because you happen to have chosen duck baby bedding to decorate the crib. Shades of pink and purple can be brought into the room through carefully chosen accessories.
Other ducky decorating options would involve a hand made patchwork quilt with duck patterns appliqued on the ducky quilt squares paired with a set of pretty duck crib sheets will allow you to decorate your baby's unique nursery in any colors that you want. You don't have to settle for a set of baby crib bedding with yellow ducks in any given shade. If you make your own custom sewn set of duck baby bedding and duck themed nursery window valances or treatments you are not at the mercy of the baby bedding manufacturers!
The interesting thing about decorating around a set of baby crib bedding with yellow ducks is that the rubber ducky baby theme is virtually timeless! Another benefit is that there are so many modern color schemes that not only work with duck baby bedding, but look FABULOUS! With every generation of babies there are new duck themed baby items! One of my favorites at the time of this baby nursery decorating article is duck theme car seat covers! Rubber ducky car seat slip covers! How cool is that? You can have a matching rubber ducky baby car seat covers and baby crib bedding with yellow ducks!
To see more ducky baby nursery themes and photos to inspire your own design please visit the nursery picture gallery here on Unique Baby Gear Ideas where you will see baby crafts and DIY woodworking projects that would interest a new mom searching for nursery decorations to complement a set of baby crib bedding with yellow ducks!