Best Elephant Baby Bedding Sets and Nursery Ideas for Baby Boys and Girls
This page has elephant baby bedding sets and pictures filled with nursery decorating ideas and lots of crafts projects that will delight the parent who loved the zoo or the circus as a child. The rooms are filled with wild animals and bold colors introduced by homemade quilts and artwork.

Some decorators have created very attractive rooms for kids with a circus train full of wild animals as a focal point. Elephants in the circus with all of the rest of their performing friends make adorable appliques on a crib quilt that you can make yourself to use as bedding or as a wall hanging.
A patchwork quilt wmade from fabrics in cheerful, bold colors is an inexpensive crafts project that even beginners to sewing can master.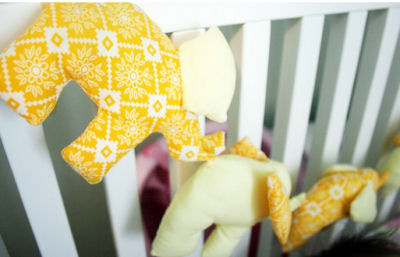 Homemade Elephant Theme Baby Bunting


There are many DIY craft projects for a mom-to-be to enjoy while waiting on her little one to arrive like a homemade elephant baby bunting made from bright colored fabrics in colors that complement the nursery's décor and crib set.


Elephants are an excellent choice for a gender neutral nursery but they are also adorable in a baby girl's room.
Many of the crib sets also contain monkeys, lions, tigers and a dancing bear or two that will keep a little one entertained during his or her first years.




Go here to see
NEW! Elephant Nursery Bedding Collections
These crib sets feature elephants in all shapes, colors and sizes.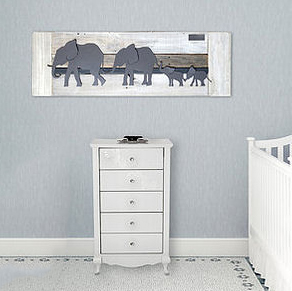 Reclaimed wood wall art for an elephant nursery can be designed in gender neutral colors using wood salvaged from wooden pallets.
Reclaimed wood wall art for a baby elephant nursery room
SHARE IDEAS - PICTURES of YOUR BABY ELEPHANT NURSERY THEMES
Do you have a great set of baby bedding or a picture of a nursery that you decorated in an Elephant theme? Share it!
ELEPHANT NURSERY IDEAS and SUGGESTIONS
Click below to see contributions from other visitors to this page...

COLORS
Here's where the fun of decorating a nursery with elephants starts to pick up steam. While gray is certainly not passe' especially if a gender neutral or unisex baby nursery theme, pink elephants for a baby girl's nursery room theme and pastel blue for a baby boy's nursery are popular.

There are no rules as to what color the baby elephants in your crib set have to be. That's right, if purple, lavender or green is your passion there is no rhyme or reason why you can not go wild and make it happen. So long as there is an appropriate elephant baby bedding set with a comforter and accessories that are made out of fabrics that go along with your ideas for the best color scheme; go for it!
DECORATIVE BABY ELEPHANT ITEMS
Your elephant baby crib bedding set will set the tone of the baby nursery theme. Most collections will offer the option of purchasing the matching crib mobile, elephant nursery curtains or window valances as well as lamps with elephants on the base and shades.
You may find that the boutique where you find your favorite elephant baby bedding set offers a deep discount if you buy the entire collection with all of the coordinating decorative accessories. Items you may want to buy separately might be an area rug and some cushions for the rocking chair and art for the walls.
If you have a large area to cover, this might be a good way to get cheap decorations and crib bedding. However, it is never a bargain to buy items that you don't need. Plus, you will want to leave some room for your own personalized, creative decorating ideas to be shown to full advantage.
Return to find more Unique Baby Gear Ideas with pictures and information on how to decorate your baby's room with elephants.