Green and Brown Baby Elephant Nursery
by Jessica
(Boise, ID)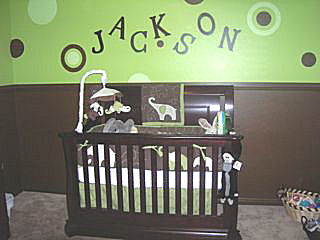 Green and Brown Baby Elephant Theme Nursery with Polka Dots on the Wall Decorated our Baby Boy Jackson
My amazing husband surprised me with the green and brown baby elephant nursery all painted and ready for our baby boy to move right in!

And the wall painting techniques that he used to decorate the nursery walls are fabulous!


Go Here To See More
Everyone who visits says that the nursery looks like we had it professionally decorated and it does look like something from the pages of a decorating magazine!
Of all the creative
baby nursery ideas
that my husband had, the wall painting technique is probably the most outstanding feature in our baby boy's
green and brown baby elephant nursery
.
Here are the instructions if you would like to paint polka dots, elephants or something similar in your baby's room. Of course, you can use any colors that work for you but as you can see he painted the whole bottom of the wall chocolate brown and the upper portion of the walls in a spring green paint color. After that coat of paint was dry, he then drew over 20 giant circles on the walls by hand using various shades of mint green and chocolate brown.
The wooden trim and all the borders, both top and bottom, are painted brown. As a finishing touch,
his brother hand painted an elephant on the baby's closet door, we added letters over the crib that spell out our baby boy's name and bought an adorable set of elephant baby bedding for Jackson's crib.
I cried when I saw the room for the first time. The nursery is so amazing and so is my husband!
Our son is now 7 months old and loves his colorful, bright
elephant nursery theme
so very much!