Green and Brown Elephant Nursery
by Teri
(Utah)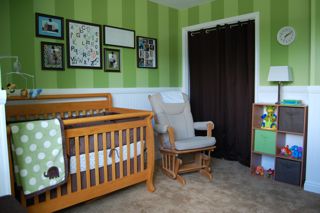 Green and brown elephant nursery with striped walls
I was so anxious to start decorating our baby's green and brown elephant nursery; I could hardly wait! After finally succeeding in getting pregnant for the second time I was delighted to know that we would be able to decorate another nursery.


The room we would be using had not been used and left virtually untouched since we moved into our home 6 years ago.


In spite of our joy and anticipation we tried to keep things simple as far as the design was concerned.





I knew I wanted to do bead board on the walls of the room, but I had a little 4 year-old who had some strong opinions regarding wall decor so I let him participate a little and the outcome is exactly what we wanted.
Go Here to See More
The green paint was for him, the wooden bead board for me and then lots of fun decorations. I painted the top half of the room in stripes using two shades of apple green.
After the paint was dry, my husband and I then installed the bead board, new baseboards and the cap moulding.
I painted all of the
DIY nursery wainscoting
in crisp white using high gloss enamel paint. I chose this because I wanted everything to be super, super washable).
To furnish the nursery, we reused all of our baby furniture adding a bookshelf. We also installed a new closet organizer and I hung curtains that I bought at Target on a shower curtain rod that replaced the bi-fold doors to give the room the look of having extra space.
I bought new baby bedding that included a color scheme of many shades of brown with touches of green and blue. I found all of the bedding at at Babys R Us bought each piece separately on sale or I used coupons.
For nursery window treatments, I made a very simple window valance from brown corduroy and covered a cushion for the window seat in a super soft brown fabric. I have no idea what its name is, but it's very soft and it's home decor fabric so it's nice and heavy.
After the window valance was completed I used some of the left over corduroy to make an envelope pillow cover and decorated it with a little elephant that I cut out with my Cricut. The fabric for these projects came from Joanns.
I also made the "ABC 123" pillows that are arranged on the window seat by cutting out the shapes with my cricut and then ironing them on pre-made pillow covers from Ikea. The patterned fabric is from Material Girls.
The vinyl elephant family on parade over the baby's changing table was purchased in an etsy store.
My favorite part of the baby's room is my wall art. The smaller frames came from Walmart and I spray painted them brown.
After painting them, I then covered the glass with fabric and glued the clip to the fabric/glass making it super easy to change out the pictures.
I made the framed animal alphabet collage using letter chip boards that I spray painted brown in various fonts and then I cut out animals, again with the Cricut. I used a frame I had on hand and sprayed it brown to match the others. I then glued the letters and animals on white wrapping paper before sticking it in the frame.
The shadow box is filled with pregnancy pictures, but will be changed to hold his baby blessing outfit, etc, in a few months. And finally there is the frame that will hold his monthly pictures up to 1 year that has a blank space where I will add his initial when our baby boy arrives and gets a name. As the final touch, I will add his name (that is yet to be determined) above the crib on the big blank wall.
My 4 year-old is thrilled with how the room turned out and that his color choice of green and an elephant theme was used. I really love everything about our baby boy's nursery and I am so pleased with how it all turned out.
I would love to hear what
Unique Baby Gear Ideas
' visitors think and will happily answer any questions you have and would love to have you drop by my blog, Mama Thompson!