Luxury Designer Baby Bedding Collections and Nursery Decor
Even in a bad economy, high end, designer baby bedding sets are sought after by moms with a taste for luxury. Decorating designer nurseries that will be the envy of their friends is the ultimate goal with the centerpiece of these rooms, of course, being the crib set surrounded by tasteful decorative items that have, more likely than not, been color coordinated right down to the infant's toys.


Surprisingly, some of the really big names like Tommy Hilfiger, Ralph Lauren Polo and even Juicy Couture are conspicuously absent in the designer section of the baby boutiques. I have decorated nurseries using the famous Tommy Hilfiger colors of bright red and navy blue and once had a custom crib set contracted to be made from Ralph Lauren's teddy bear fabric, but as far as designer baby bedding with the official Tommy or RL logo on it, I'm still waiting.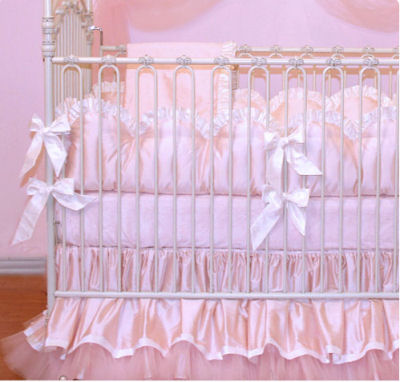 Go Here to See More
So, who are the heavy hitters in the high end designer baby bedding arena? Kathy Ireland, after making quite a name for herself ventured into designing a collection of designer baby bedding that was very affordable awhile ago but if you're looking for a large selection here's a list of my favorite designer baby bedding sets that are ready made for you and ready to pop in the baby's crib.
I will start the list of designer baby bedding brands with the high end collections working our way down to the more affordable (but often just as elegant as the luxury priced brands) designer crib bedding sets.
HIGH END BABY BEDDING BRANDS

Serena & Lily
Doodlefish
Little Bunny Blue
Maddie Boo
Cotton Tale
Banana Fish
Glenna Jean
Caden Lane
BeBe Chic
Whistle and Wink
AFFORDABLE DESIGNER NURSERY BEDDING

Nojo
My Baby Sam
Alli Taylor
Pem America
Trend Lab
Lambs & Ivy
BUYING AFFORDABLE DESIGNER BABY BEDDING
I'm sure that you noticed that many of the brands at the top of the list cost just less of $1,000 to completely outfit your baby's crib. Expensive crib sets like that are certainly out of reach for most of us (including myself!) but if you see one that you like and can afford to be patient and wait, you can often pick them up at deep discounts on end of the season sales or buy them one piece at a time off the closeout table or through online auctions.
The benefits of designer baby bedding over cheap crib sets are many but the most important is fabric. Color and style is always important but the weight and hand of the material and a well sewn seam is the heart of any bedding set whether it's meant for a baby or an adult.
Speaking of nursery style and design, I hope that when you complete your dream nursery that you will come back and share pictures of your baby nursery ideas with us!