Decorating the Nursery Wall With Baby's Clothes
by JB
Today I will share some tips for decorating the baby's nursery walls without having to dip into the budget too much. The ideas that I have for you will save parents that are on a tight decorating budget lots of money and the results are absolutely adorable.


Plus, these creative wall decorations will also free up some precious space in the nursery closet.



The walls of a vintage nursery are a wonderful place to put baby's christening gown on display.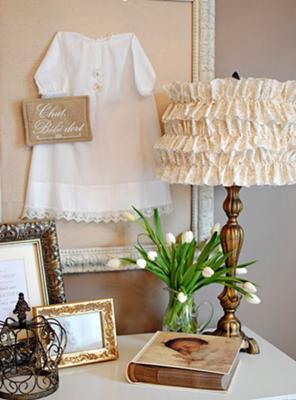 Baby Christening Gown Decorating Vintage Nursery Walls
An antique picture frame can be used to accent the baby clothes and place focus on them designating them as decorations and not just laundry left to air dry (that might be the case in my girls' nursery on any given day).
This unique display is featured in a room that was completely decorated and furnished for the totally amazing price of less than $200. This is just one of the photos of the nursery; there are several more on Unique Baby Gear Ideas. Each of the pictures is more wonderful than the next and I believe that it is worth spending a moment of your time to take a look. In addition to the pictures, there are excellent tips and shopping resources that I found very helpful and I believe that you will enjoy them as much as I did especially if you are in the process of decorating a nursery.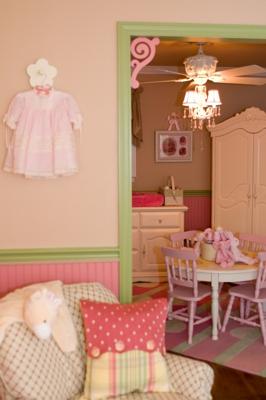 A Baby Girl's Dress on the Walls of a Pink and Green Nursery
A pretty clothes hanger and a decorative wall hook have a similar effect.
Using
baby clothes
as wall decor is not restricted to girls rooms or in spaces decorated in vintage designs. Check out how a baby boy's onesie has been included in this mom's wall decorating ideas.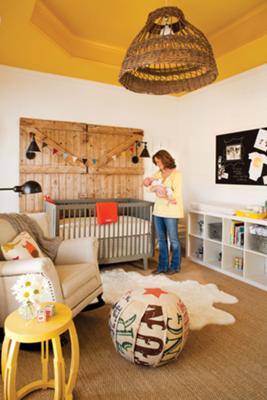 Baby Boy's Onesies Decorate the Wall of a Rustic Nursery Room
The little guy's onesie is part of an arrangement on a chocolate brown message board in a rustic nursery room opposite a stunning barn board wall located behind the crib.
If you have used your baby's hats or outfits as part of the nursery wall decor, please use one of the forms on
Unique Baby Gear Ideas
to share them with our visitors.