Make a Camo Baby Shower Cake for a Boys Camouflage Baby Shower
Camouflage Baby Shower Cake Ideas

We have some tips and camo baby shower cake ideas for a boys or for girls that will be easy for the hostess to make herself.  One of the camouflage baby shower cake ideas that we have to share is so easy that even a beginner to baking can get excellent results and WOW the guests.

There are no fondant sheets to master and therefore no fancy cake decorating utensils to buy. As lovely as fondant is, there is little argument that a frosted cake can be just as attractive and most people prefer the taste.
You will need only very basic baking supplies for what I like to call "The Surprise Camo Cake" and you will soon see where the "surprise" part of the name comes from.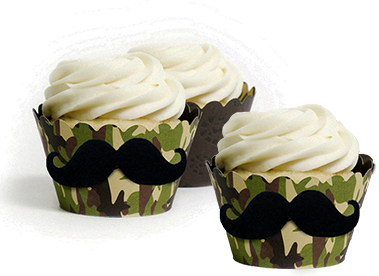 Go here to see
Instructions for the Camouflage Surprise Baby Shower Cake
You will need:
(1) Box of white cake mix
(1) Box of yellow cake mix
(1) Box of chocolate cake mix
Green food coloring

Yellow food coloring

Refer to the instructions on the boxes of each individual cake mix to determine what you need in the way of pans and ingredients required to make each one.
Step 1.
Mix all of the ingredients for the white cake mix as per the instructions on the box PLUS enough of the green food coloring to make it a nice, drab olive green color. Tip: You should add enough coloring to make the batter slightly greener than you want as it will be a lighter color after it has been baked.
After the mixing is finished set the blended batter in the mixing bowl to the side. Do not pour the green colored batter into the cake pan yet.
Step 2.
Mix all of the ingredients for the yellow cake mix as per the instructions on the box PLUS a very small amount of yellow food coloring. Tip: You should add just a few drops of yellow food coloring to make the batter a creamy color that is actually more of a beige color than yellow.
After you have finished mixing the ingredients set the batter in the mixing bowl to the side. Do not pour your yellow batter into the cake pan just yet.
Step 3.
Blend the ingredients for the chocolate cake batter together and put them to the side.
Now..the fun part of making your camo baby shower cake is about to begin!
What you should have now is three (3) bowls of cake batter:
1 green
1 yellow
1 dark brown
Prepare your cake pans (in whatever size pans you choose), once again according to package directions if you have not done so already.
Drop and Plop
You will now randomly drop small (not TOO small), irregular "plops" of batter from each bowl into your baking pan(s) to create a camouflage pattern.
TIP: Do NOT swirl the batter with a spoon. I learned the hard way that swirling does not improve the camo pattern.
When you have the right amount of batter in each pan (if you are baking a layer cake), bake and cool as usual.
Refer to the pictures of various camo patterns online to duplicate their colors and graphics in the batter and when preparing the frosting.
Frosting Options
The options available to you at this point are endless. There are sheets of fondant with a camo print that can be used. Or you can do what I did and just opt for dark chocolate frosting and when the guests at the party cut the cake and see the inside of the camo baby shower cake; they will be surprised and very, very impressed that you baked it yourself!
I hope that you will share pictures of your camouflage baby shower cake with others that stop by
Unique Baby Gear Ideas
looking for inspiration for their cakes and cupcakes using the form below that makes it very easy to upload pictures and a little information about your creation.