Crazy Cute Baby Shower Cake Designs Ideas and Pictures

Enjoy the crazy cute baby shower cake designs and pictures on this page that feature ideas for easy-to-make, delicious cakes that have been baked using canned frosting, boxed mixes and pans that you may already have in your kitchen cupboard.  The photos in our gallery are shared by other DIY bakers that, just like you, want to create a lovely centerpiece for the party that tastes as good as it looks.
Some hostesses may prefer to devote their skills to creating a non-edible centerpiece for the dessert table; a diaper cake which is a very practical choice since the creation often serves as a decorative item as well as a gift for the guest of honor who will be delighted to receive extra diapers for her stash.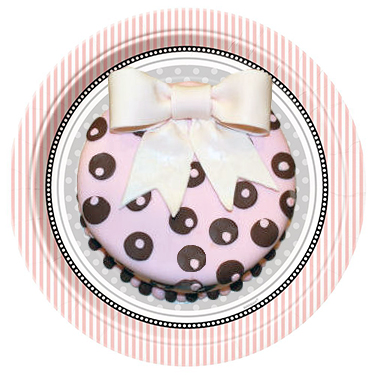 Share Pictures of Baby Shower Cake Designs and Decorating Tips and Ideas
Do you have a picture? Share it!
This was the result of my first experiment with making and tinting my own fondant. I followed a tutorial to make the bow and used an empty spice bottle and a clean drinking straw to make the polka dots. The amount of fondant used for each bead was the most difficult part of the entire process which means this was one of the easiest baby shower cake designs ever!
I used a Betty Crocker yellow cake mix and canned cream cheese frosting and it tasted great. Since I had complete control of the amount of food coloring that was added to the fondant it was a perfect match to the party decorations and tableware. It really did look fantastic; I was so proud of myself and saved a lot of money considering a similar dessert from a bakery would have cost approximately $100 or more.
Go Here to Get More Tips and Ideas for Baby Shower Cakes to Make Yourself
For those of you with plans to take the quick and easy route using a cake mix there is very little in the way of supplies that you need beyond the mix, the ingredients called for on the box, a can of frosting, a bowl and a mixer or whisk as far as necessities are concerned. But a sheet pan or round cake pans and a basic decorating kit are essential to take your cake to the next level. Fondant requires more tools than a layer or sheet cake as well as skills and time. Beginners are wise to get a few baking projects under their belt before moving on to decorating with fondant as I learned the hard way.
Please visit
Unique Baby Gear Ideas
often to see the latest pictures of baby shower cake designs shared by other budget-minded hostesses.