Bunny Costume Ideas for Babies and Adults
Every adult and child should have the opportunity to wear a fuzzy pink bunny costume at least once their life. The Easter holiday is a grand reason to dress your infant as a cute baby bunny rabbit. Even a barely used Halloween costume will work in a pinch. Floppy pink and white bunny ears are so precious cute on a warm fleece bunting for baby and you can use the outfit every day that the weather is cool! Don't wait until Easter Sunday or Halloween rolls around to break out the cool bunny suits.

You can get a darling bunny infant outfit or costume CHEAP! Most bunny costumes for Easter or for Halloween can be found for the inexpensive amount of $20 or less which is not much to pay for unique costumes with lots of bunny rabbit details!


Bunny Ears
How to Make Bunny Halloween Costumes out of Baby Onesies
And then you can run out and buy a pattern and make the costume yourself.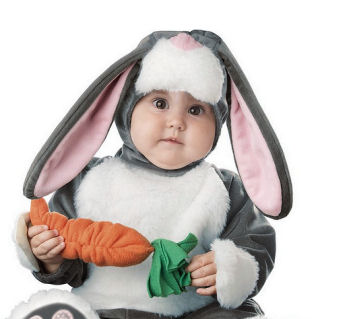 Go here to see more
floppy ears, stuffed carrots and other accessories to enhance your baby's bunny rabbit costume.
If your budget doesn't allow for a baby Easter Bunny outfit to wear for a few hours that will never see the light of day again with an expensive price tag, get some fuzzy fleece fabric and sew your own baby bunny outfit for cheap! Look in the family magazines for pictures and ideas to help you know what to get to sew your own unique baby costume.
Cheap baby girl bunny costumes are easy to make yourself. Take a pair of pink pajamas with feet, add a pair of bunny ears and paint her nose with some baby safe makeup or lipstick.
A boy's bunny suit could be a pair of blue fleece pajamas with feet. With the addition of some cheap bunny ears (readily available at Easter and at party supply stores year round), and a toy carrot found in a child's grocery store play set, you will have created an Easter bunny worthy costume that will make the Easter bunny green with envy!

Baby can proudly wear his or her costume for for an Easter play at school, for Trick or Treating at Halloween or for playing dress-up! For an infant costume, a fuzzy fleece snowy white baby bunting with pink satin bunny ears is an appropriate Easty Bunny outfit or eye catching costume for any holiday or special occasion! For everyday this baby bunny bunting will keep your baby warm and cozy in style! With a little planning you can use your bunny baby costume for Halloween, Easter and other dress-up occasions.
If you don't have any rabbit worthy PJs that are in good enough shape for baby to be seen in, don't wait, spring for one of the ready made infant costumes on the market. Come on, how can you resist those pretty pink satin and white fluffy ears? Not to mention the fluffy tail that's like a powder full and those pink eyes!
For days with cool temperatures, there are some dressy upscale costumes for a baby girl have a fur edged hooded cape with attached bunny ears. The tiny bunny themed mittens and booties are attached, too! This infant costume comes in sizes that would fit tiny three month old babies up to one year old babies. If you are buying a toddler costume for a toddler who will be walking beside you, you might want to skip the white fur booties.
If you're shopping online for an outfit for a child that's past infant or toddler age and size, it will be an oversized event and hassle to find a white bunny costume or any rabbit costume that will make them happy. Try a Looney Tunes Bug Bunny Costume! Bugs Bunny Halloween and (in a pinch) Easter costumes come in toddler sizes to bunny suits for adults in plus-sizes. Bugs Bunny outfits come in all sizes so grab a carrot it's your lucky day!
Do you want to make hubby jump for joy? He just might if you agree to wear a sexy playboy bunny Halloween costume to the next cocktail costume party you are invited to! Hubby might just jump into a Bugs Bunny outfit or tuxedo costume of his own! There's no telling what he would do to for the chance to have you on his arm wearing that sexy bunny costume! No joke, they go Looney Tunes over a chick in a Playboy bunny suit! Even if you're plus-size you'll look cool as can be at that cocktail party! Here's an idea, if you go as a sexy plus-size Playboy Bunny, dress your man up in a sexy smoking jacket and he can party all night as Hugh Heffner, the King of Playboy bunnies everywhere!
If you're a sexy redhead and want a bunny costume with a racy look a sexy redhead's bunny outfit is naturally a super sexy Jessica Rabbit costume!
If you're not out to look sexy in your bunny costume, don't despair as you can find conservative bunny suits and costumes for adults. These bunny costumes resemble the ones you see at Easter time in the mall. This style of bunny costume comes sporting bunny ears on an attached hood that will allow you to have your face exposed. This kind of bunny outfit is much more comfortable than full face masks. The bunny suits that have a mask will still give you some anonymity if you wish at that special Halloween party!
For the lady that only wants to dress up as a playboy bunny or play Easter Bunny in an official Easter bunny costume one time in your life, then you want to rent a costume! I'd rather buy a new costume and resell it than go the rental route. If the rental is half or less than the cost for a new rabbit costume, it might be wise to rent rather than buy. Most ladies want dress up like a Playboy Bunny once. Stiletto, spike heels, tight bunny costumes,boned satin bustiers and satin ears may be sexy and glamorous, but you can bet that costume's not comfortable! Playing Mrs. Bunny takes some determination and willingness to suffer for a little while!
Make plans to visit often to see new infant Halloween costume and pick up the latest Unique Baby Gear Ideas.
Disclaimer: The contents of this article and website are for informational purposes only and should not replace medical advice from a doctor or professional. You should always make your own choices on the advice of your chosen professional in matters concerning your baby's safety.