Best Honey Bee Hive and Bumblebee Stencils
Bumblebee stencils would be rather difficult to make on your own. I'm all in favor of making your own stencils or downloading free, printable stencils and stencil patterns to use in your decorating project. When it comes to insects and other pictures that have lots of small details that might be lost in the free version, my advice is to spend a few dollars and get a high quality laser cut stencil.




It's amazing to me that any decorator who knows that time is money would spend hours making their own stencils. Why would anyone risk cutting their fingers using a razor knife to cut free graphic designs in a plastic sheet when they could buy all the stencils they might ever need for such an inexpensive price.
You have to take into consideration that store-bought, custom stencils are reusable plus you have the added luxury of being able to see exactly what you are getting. Those benefits alone make them a bargain even if they cost twice the price.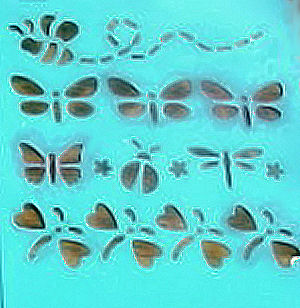 BEE STENCIL SIZES
The only way that I would take the time to make my own bumblebee stencils would be if I could not find the size that was necessary for the wall space that I was working with or if the graphic designs were not a style that I needed. The honeybee stencils that I have used to decorate children's bedrooms in the past have been 3 inches in length and larger. When I say large; I mean MUCH larger.
I decorated the walls in one child's bedroom with bee theme nursery with bumblebee stencils that were over six inches long. That may seem huge considering the natural size of bees, but for your efforts to be noticeable to the visitors that come to admire the art work in your kid's bedroom we have to enlarge them. Actually, you have to increase their size until they are so big that we pray we never see anything like it duplicated in nature!
THE BEST PAINT COLORS for BUMBLE BEE or HONEYBEE WALL STENCILS
Most decorators use yellow and black with their bumblebee stencils. However, as with ladybug motifs and other insect decorations that we use to decorate our children's walls, we can get creative with the color scheme so long as it blends and coordinates with the rest of the fabrics and accessories.

CREATIVE CRAFT IDEAS FOR BUMBLEBEE STENCILS
It just won't look right to paint a single buzzing bee on the wall, no matter how large. Here are some cute ways to use your bee stencil designs to decorate your walls, furniture or fabrics.
Use your bumblebee stencils to paint one bee following another with a lightly sketched flight path (solid drawn line or dashes) between each consecutive bee in flight around the walls of the room to serve as a painted border or chair rail of sorts.

Create an interesting focal point with a bee hive stencil with several bees buzzing around it. You will need small bumblebee stencils for this wall mural rather than the big ones we mentioned earlier. Again, a line indicating a flight path between the individual bees would add interest and balance to your painted wall decorations.
Bumblebee stencils come in handy when decorating a Winnie the Pooh themed room. Paint your honeybees around Winnie the Pooh's hunny pot rather than buzzing around a hive to add another element to your Pooh décor.
Use bee stencils to decorate the headboard of an otherwise plain baby crib or toddler bed.
Make a cute diaper bag to give as a baby shower gift by stenciling a bee or two on the front of a plain fabric tote bag
Use fabric paint to personalize a plain white onesie or baby T-shirt using your stencils of honeybees

There are many styles of decor and craft projects where bee stencils could be used. Scatter them in themes ranging from garden murals to rooms dedicated to our friends in the 100 Acre wood. As a final note; store your stencil designs carefully because I am certain that you will use them over and over again.

Return to see the latest in Unique Baby Gear and Nursery Ideas PLUS information on stenciling and craft projects.