Cute Honey and Bumble Bee Baby Shower Invitations
If you want everyone to be at the shower on time, bee baby shower invitations are in order! There's just no denying that honeybees are just so cute! Print your invitations on paper with pretty yellow, black and white polka dots or black and yellow stripes on the border for invitations with a very contemporary look.



Visitors Planning a Bumble Bee Baby Shower Theme Also Enjoyed these Pages:

Bumble Bee Baby Nursery

Bumble Bee Baby Shower Theme

Write a short poem or create clever wording for the center of the card with references to buzzing bumble bees and honey along with all the details regarding the time and date of the shower.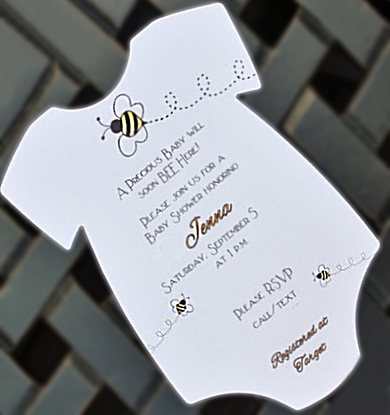 Go here to see
more handmade bumble bee baby shower cards and party decorations.
How to Make Your Own Bumble Bee Invitations
| | | | |
| --- | --- | --- | --- |
| | | | |
When you make your own cards you will find that the price doesn't sting a bit! Especially if you choose to make your own! Cute bees buzzing around the honey pot or the hive are a cute way to spread the word that there is a party in the works for a new little baby! Bumble bee or honeybee theme invitations are a good fit for several different baby shower themes.
Honeybees are the perfect natural motif to decorate showers and invitations for moms who:
Another style of bumble bee themed invitations that you could make yourself would be to cut the paper in the shape of a bee hive with bees swarming around your wording on the card. You could make these invitations yourself with some construction paper, a marking pen and a few honeybee stickers. If your party is casual, these inexpensive shower invitations would get the word out that the hive is buzzing with activity!
If you are looking for some free printable templates for bumblebee or honeybee baby shower invitations, here are some resources that offer free graphics. All you will need is a printer full of colored ink and some blank cards or card stock and envelopes. Oh, and don't forget the envelopes. Here's a resource for a free printable blank envelope template. You can make in any color or as as large or small as you like. You can also print some of your bee motifs on it to match your bee invitations.
www.graphicgarden.com/files17/eng/print/envelop1.php
Sorry that you'll have to do some cutting and pasting here, but every time I post resources, they seem to go dead and I'm left with a broken resource. Just insert a "dot" where you see the word "dot" spelled out and you'll get to the free printable bee pictures and graphics that you can use on your bee baby shower invitations and announcements.
www. hshpgraphics dot com /hshphoneybees.htm
www. countryclipart dot com/freegraphics.htm
www. enchantedlearning dot com/themes/bees.shtml - This bee is very realistic and is on the same page as a house fly!
www. abcteach dot com /paper/bees.htm – This is a lined page with a border of honeybees on all sides.
That should "bee" enough to get you started on your way to finding or making your very own bee baby shower invitations.
Return to Unique Baby Gear Ideas to pick up more tips for making your own baby shower invitations, gifts and decorations.